It's just after four o'clock and the bright, clear day is giving way to a cold, clear night. All the performers, technicians and volunteers are in place. The stage is set, literally, for HeckmondLIGHT 2016.
"So what can we expect?" I ask Simon Thirkill, stalwart of the Heckmondwike Community Alliance and local café owner.
"That guy on the bike is projecting animated images inspired by the Heckmondwike illuminations," he says, "and over there are cages with animatronic birds that flap and tweet as you walk past. And then there's the Momentum Wheel…"
"Which is the centrepiece for the lights switch-on," I suggest, noticing the 'blue touchpaper' elevated by poles, linking the stage and the specially-commissioned sculpture.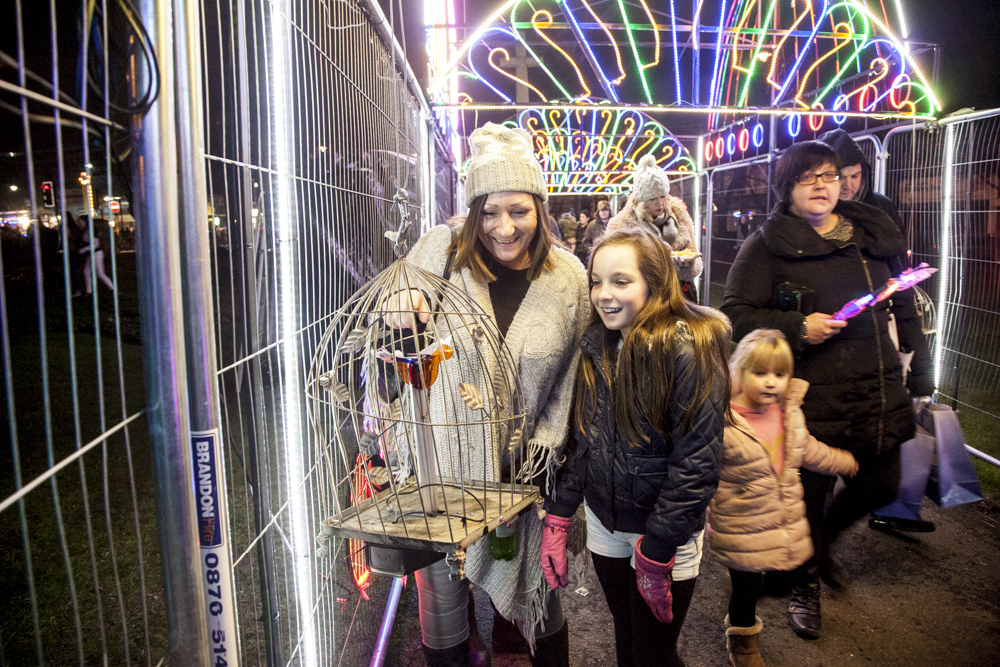 For Simon and his colleagues HeckmondLIGHT is more than just flashing lights and fireworks. "Creating a time and a space for people to experience things together is really important," he says. "It's a priority for me to help create those opportunities."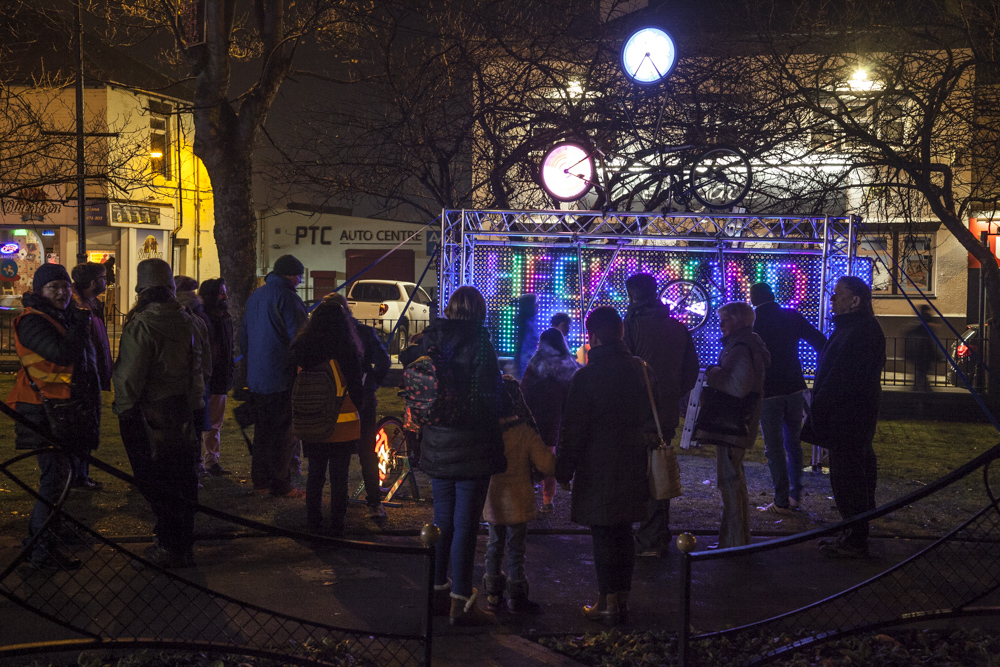 Volunteers Sonia and Zane are in position next to the tweeting birds. I've met these teenagers before. "So what makes you spend your Saturday evening volunteering at Creative Scene events like this?" I ask Sonia.
"It's a great way to get involved with the arts, isn't it?" she says. "There are so many interesting opportunities," – she and Zane were both 'lay performers' at Batley Festival back in September – "and I like the way Creative Scene is making the arts accessible to people in this area."
"It's a good way to get to know all the other volunteers," says Zane. "We're like a big family, all supportive of each other. That's why we keep coming back."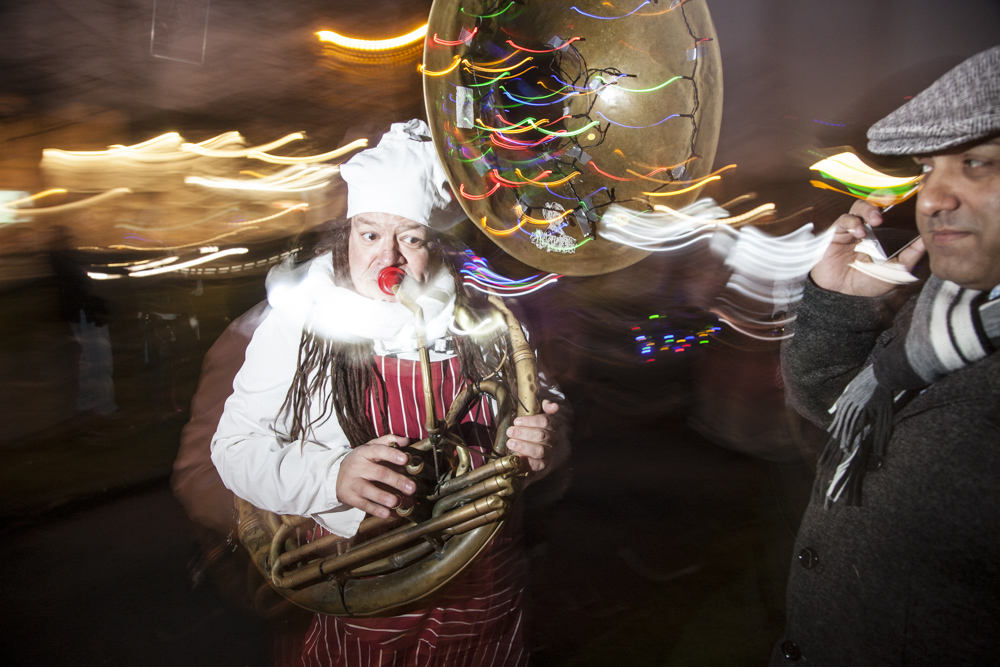 Zane has helped out at Batley Festival for the last two years, "… and I did  HeckmondFRIGHT last year," he says.
"I missed that but I saw the film. It looked great."
"It was really good. We had to carry a coffin around town and the police stopped us and asked if there was a body in it. That was funny."
Still at school, fifteen-year-old Zane tells me he wanted to be a pilot. "But now I've seen what Creative Scene does, I think I want to do something creative like drama or contemporary art."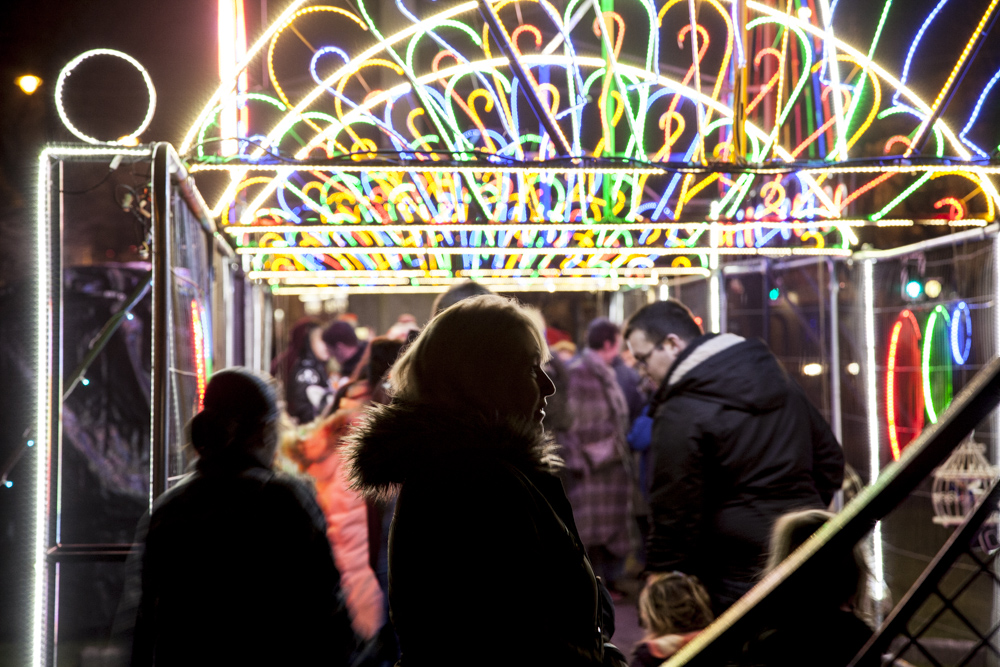 Back near the bandstand Chris from Impossible Arts – co-creator of the Momentum Wheel – is in animated conversation with hi-vis-clad local contractor Ben Hardcastle. Ben and his family have installed the lights in this town for years and it'll be his job, behind the scenes, to actually flick the switch.
"The firecrackers are quite loud: BANG, BANG, BANG," explains Chris, "but the final bit is the WHOOSH of the fireworks, that's your cue to switch on the lights."
"So when I see the WHOOSH and not the BANG," reiterates Ben.
"That's right. The WHOOSH and not the BANG," says Chris. "Brilliant, that's great."
There's time before the big switch-on at 6.30 to take a look around. Next to the park the bus hub has been transformed into a mini funfair with waltzers, a trampoline and vendors selling the obligatory flashing light sabres and battery-powered windmills. Excited children, wrapped up against the cold, grapple with bags of candy floss and dodgy-looking burgers.
Across the busy road artists Rozi Fuller and Liz Walker have taken over Simon's Blue Moon Café. With a light box of sand and some technical wizardry they project festive animations onto the window of the caff.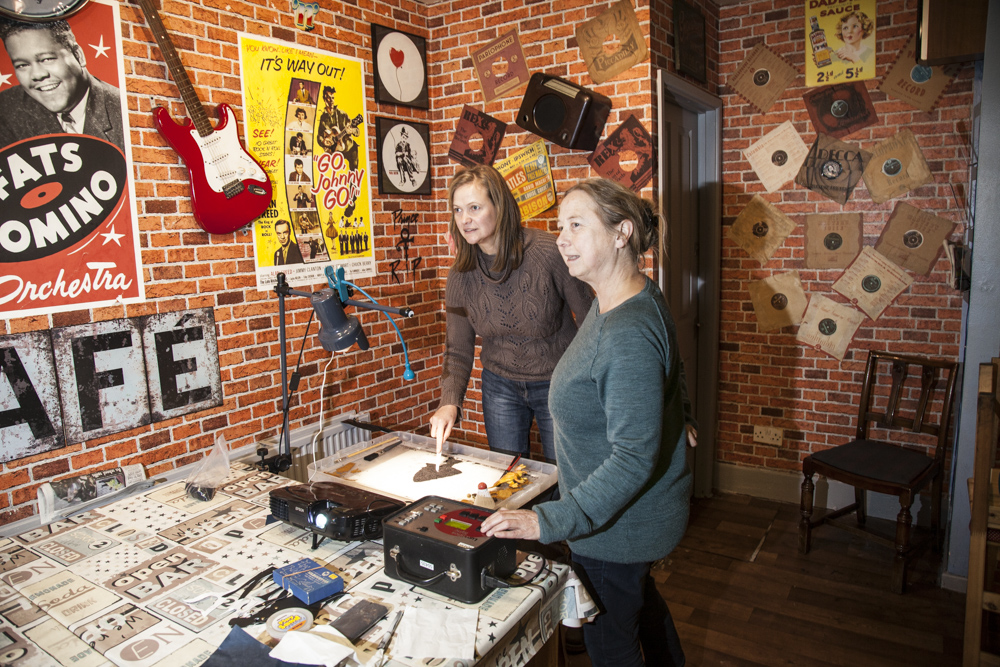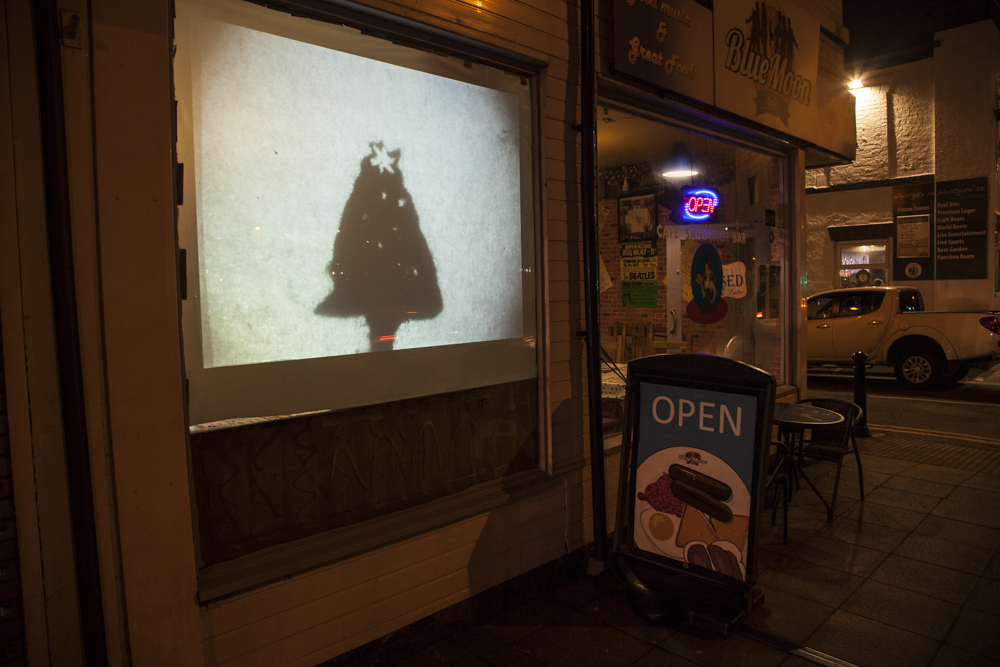 "Would you like a go?" ask Rozi.
"No, thanks," I say abruptly. "I'd love to but there's so much going on, I've got to get round everything."
[Continued in The Momentum Wheel begins to turn.]