The light has faded, a crowd has gathered, it's almost time for The Batley Picture Show.
Periplum Theatre Company has been commissioned to produce a bespoke show as a finalé to The Batley Festival and we are about to see the culmination of months of planning, research and editing.
"The people we've met have been really keen to talk about their community which, I guess, is a reflection of recent events," says Periplum director Claire Raftery, as she takes up a position amongst the audience. "Everyone has been really friendly. Batley is an easy community to talk to."
"And what's been your biggest challenge?"
"To get enough footage that reflects the diversity of the community," she says. "We got there in the end but, yes, that was a bit of a challenge."
"Part of what Creative Scene does is about building audiences," I say. "What sort of legacy do you think Periplum will leave for Batley?"
Claire smiles. "Well, we hope we've made something magical. We always try and make something magical."
The local performers in their donkey jackets congregate back stage. Creative Scene supporter Ammaarah is amongst them. "How was the dress rehearsal last night?" I ask.
"It came together really well," she says. "I think we executed it almost perfectly. We worked together really well as a team."
"You're only saying that because they're all here," I joke. Apparently Claire and Damian and the team were so impressed with the enthusiasm of the volunteers, they've created a bigger role for them in the performance.
Musician Mike, resplendent in his evening dress, takes to the central podium as if he's at the Albert Hall. Lights, pyrotechnics, action. The show begins as the first pre-recorded poem competes with whoops from the crowd.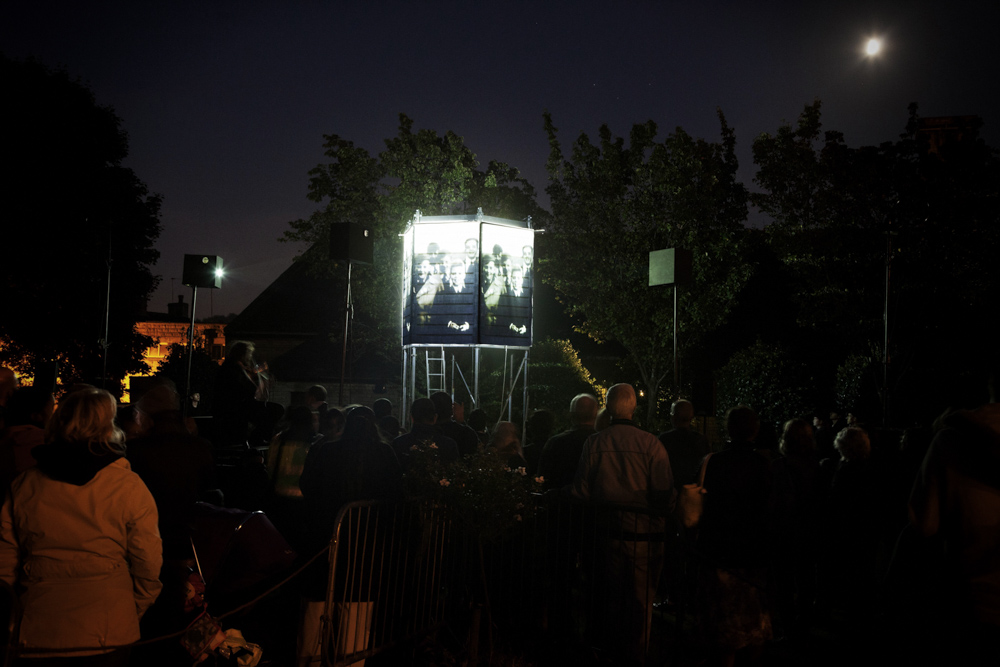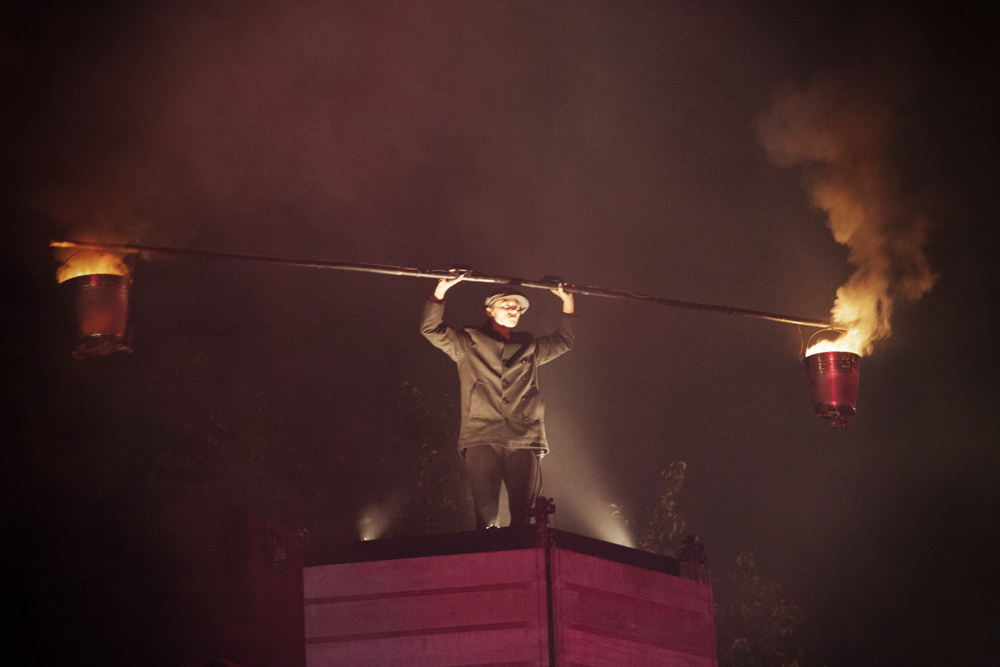 The town I was born, the town I was raised
Look, the town, it's coming alive
In between each of five short films about Batley life – school days, industry, 'horror', nightlife, and sport – the Periplum actors and their entourage perform cameos involving bells, flares and lots of fireworks that keep the crowd guessing where to look next.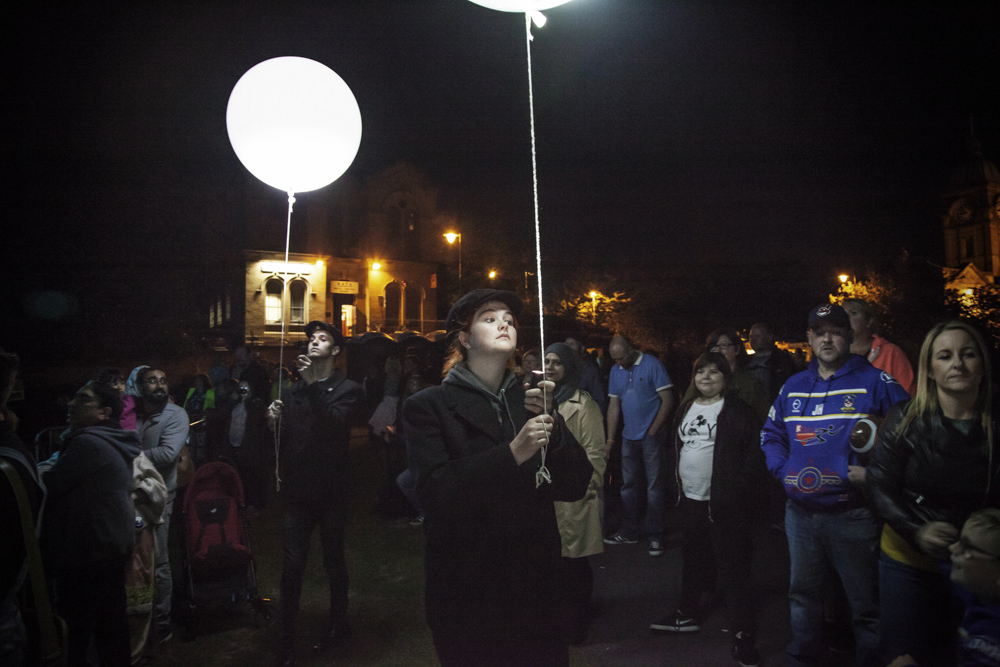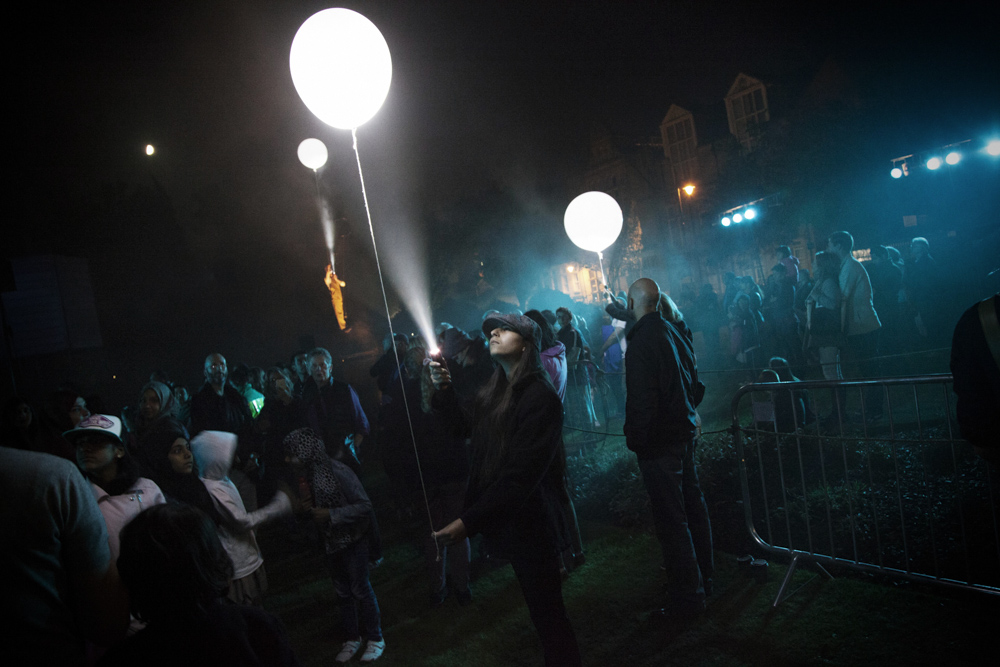 The biggest communal 'Ah' comes as Ammaarah and her colleagues simultaneously release their white balloons into the black sky.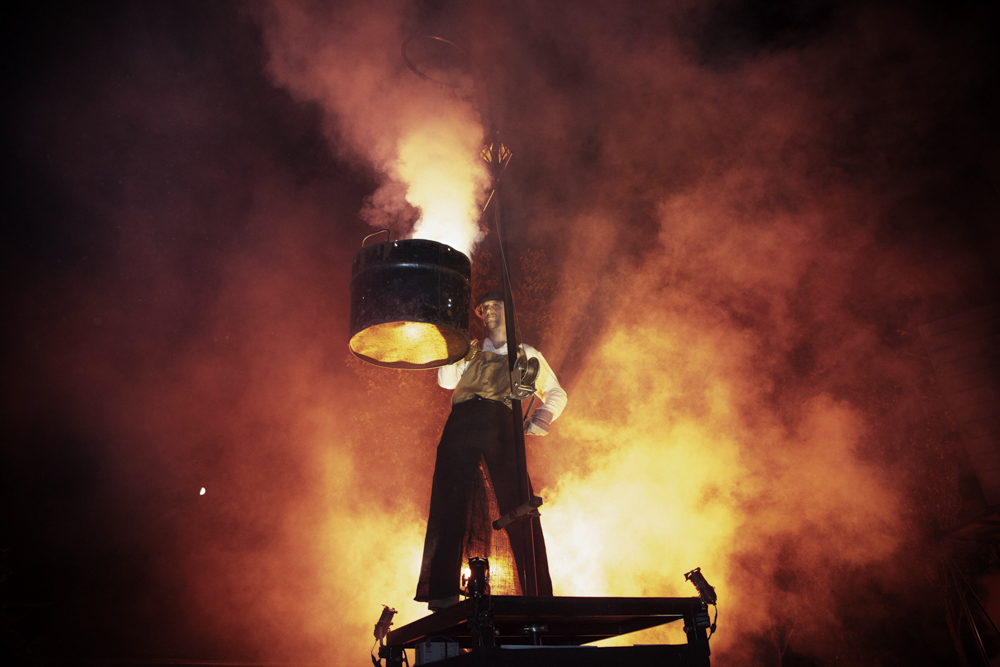 From the twinkling edifice of Mr Smith's
To the final waltz at the Xclusive
Wipe your feet on your way outside
Look, the town, it's coming alive
The show culminates with a group of chanting junior rugby players advancing through the crowd, "Batley, Batley, rah, rah, rah!"
"Batley, Batley, rah, rah, rah!" repeats Mike, waving his arms to encourage everyone to join in.
As if from nowhere a line of purple banners appear to flank the watchtower as aerial performer Florence – dressed as a Batley Bulldogs RLFC prop forward – dashes for the try line in mid air. More flares, more fireworks and more cheering from the appreciative onlookers.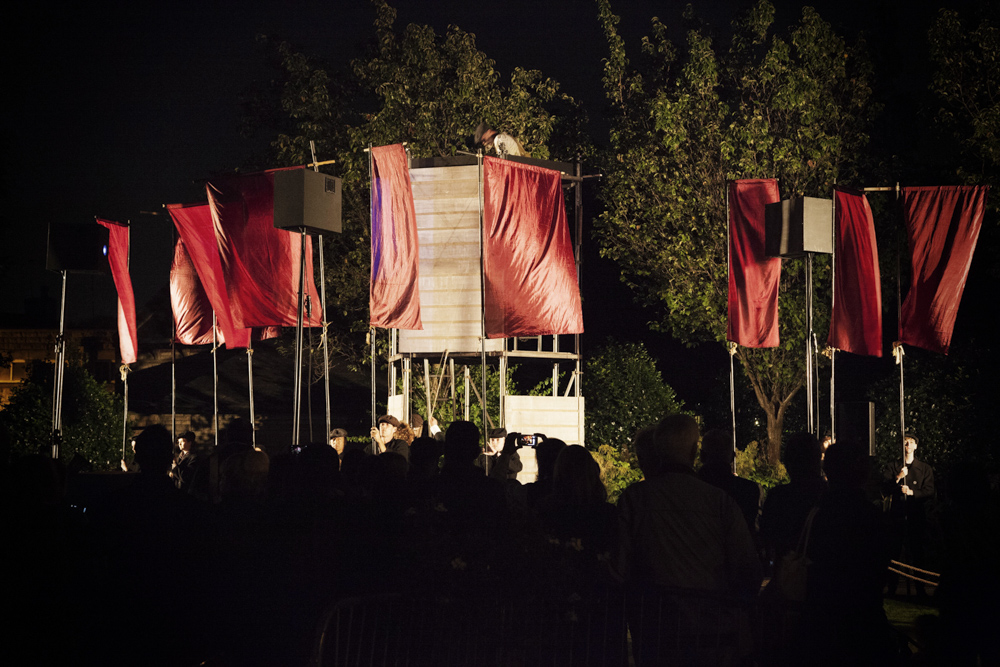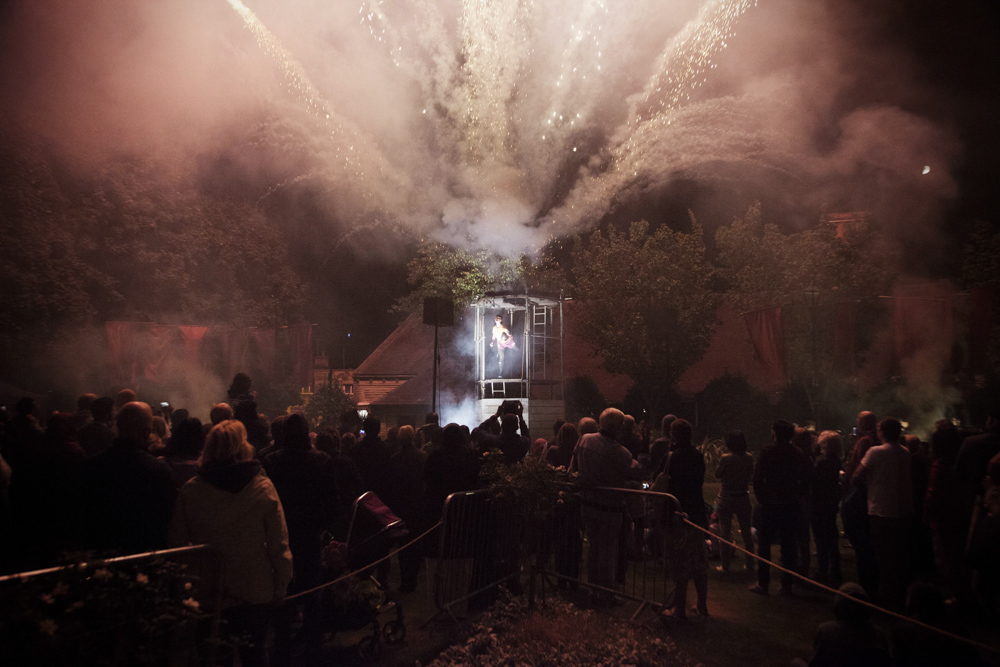 A man grabs my arm as the music fades, eager to tell me what he thinks. "That were absolutely fantastic," he says. "Spot on. Whoever's done that has done it with a lot of heart, a lot of heart."
The crowd reluctantly disperses as I approach a woman and her young daughters who I recognise from earlier in the day, riding the Life Boat.
"They got it in a nutshell," says Hawa. "They included everyone that lives in Batley. My dad used to work in the mills and he still talks about it a lot. And it was good that they included Asian music because this is such a wide community."
"Did you feel it was a celebration of the town?"
"Definitely, definitely. It was lovely, brilliant."
I tell Hawa I'm writing a blog for Creative Scene.
"We need to remember that," she says to her girls, "Creative Scene."