"After our presentations we'll ask everyone to get together and make a shelter – a sanctuary – from the twigs we've brought back from the Yorkshire Sculpture Park," says Kim to the circle of Poles, Serbs, Italians, Syrians, Ukrainians and more.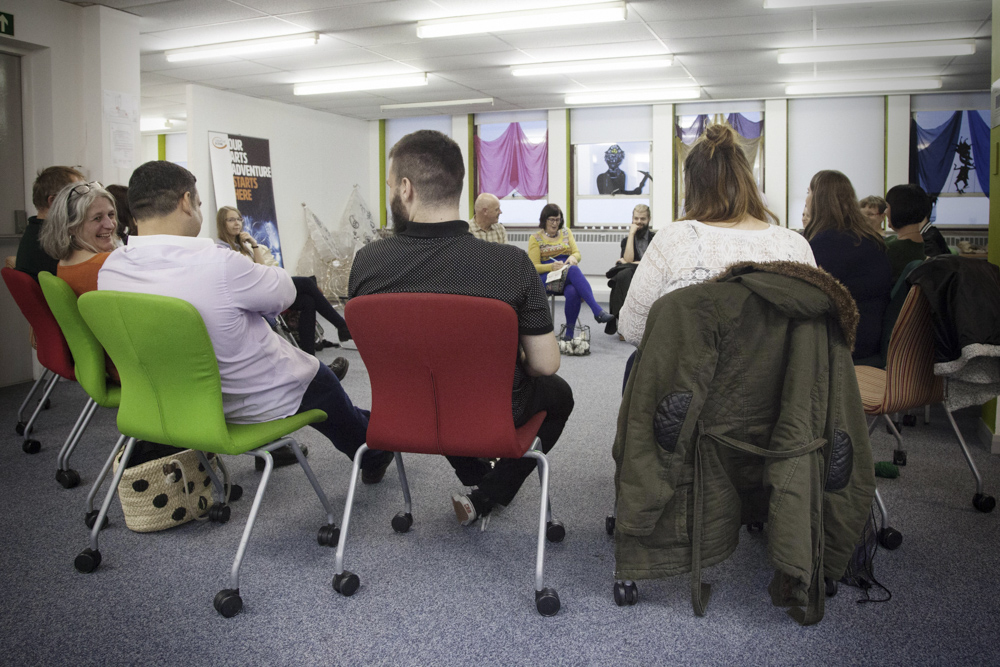 This is the return leg of the European tour by 6 million+ that I wrote about earlier this year. The Kirklees-based charity has partnered with groups in Poland, Italy and Serbia to remember the Holocaust and other genocides and make connections with present day events.
Now some from those groups are visiting rainy West Yorkshire for a few days and together planning activities for next year's Holocaust Memorial Day (HMD). We've been invited to host tonight's event in 'Brigantia', Creative Scene's pop up studio space in Dewsbury.
"In a while we'll be joined by our invited guests," explains project co-ordinator Kim Strickson, "some of whom are refugees themselves now living in our community."
The circle breaks up to give everyone time to prepare. Two huge 'Weeping Sister' puppets made for last year's HMD event are carefully unpacked.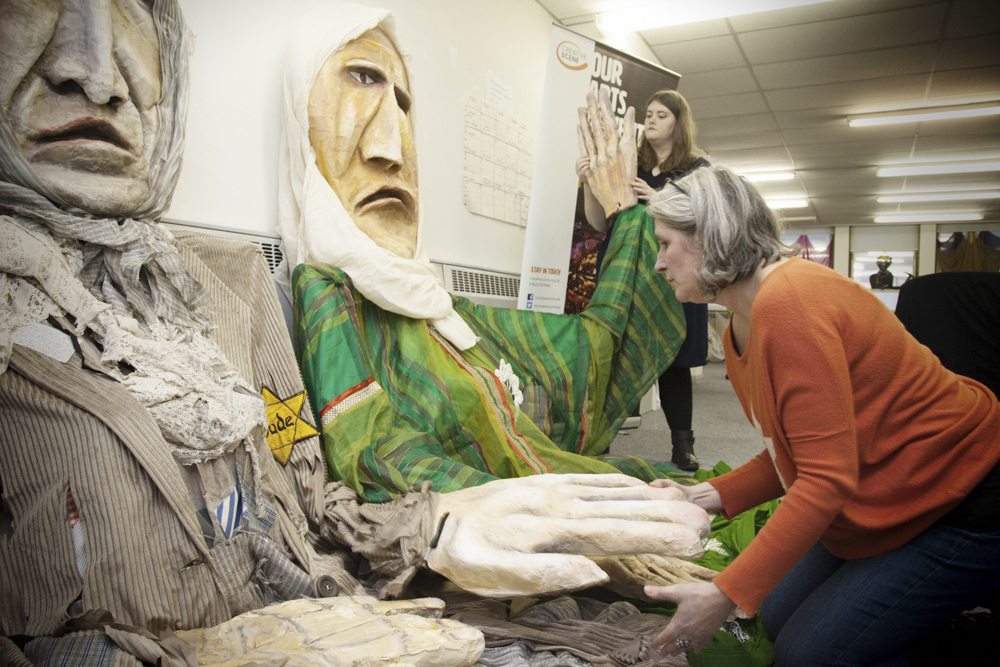 "Poor Kitty, her nose looks a bit bashed," says Joanne who, with her daughter Iris, helped to make the puppets. "She needs some tlc."
Each of the participants have been asked to make a 'creative response' to their involvement in the project. And it's some of these responses which are being presented tonight.
"I've made a tree from buttons," says Kate, a volunteer guide at Majdanek concentration camp in Lublin, Poland, "which was inspired by the workshop Kim and her team brought to us.
"The roots represent the shared history that we can't forget and the branches represent a new generation, new friendships and new futures. All the buttons are different – we are all different – but we still have much in common."
As the local guests arrive, introductions are made and conversations spring up naturally in shared languages.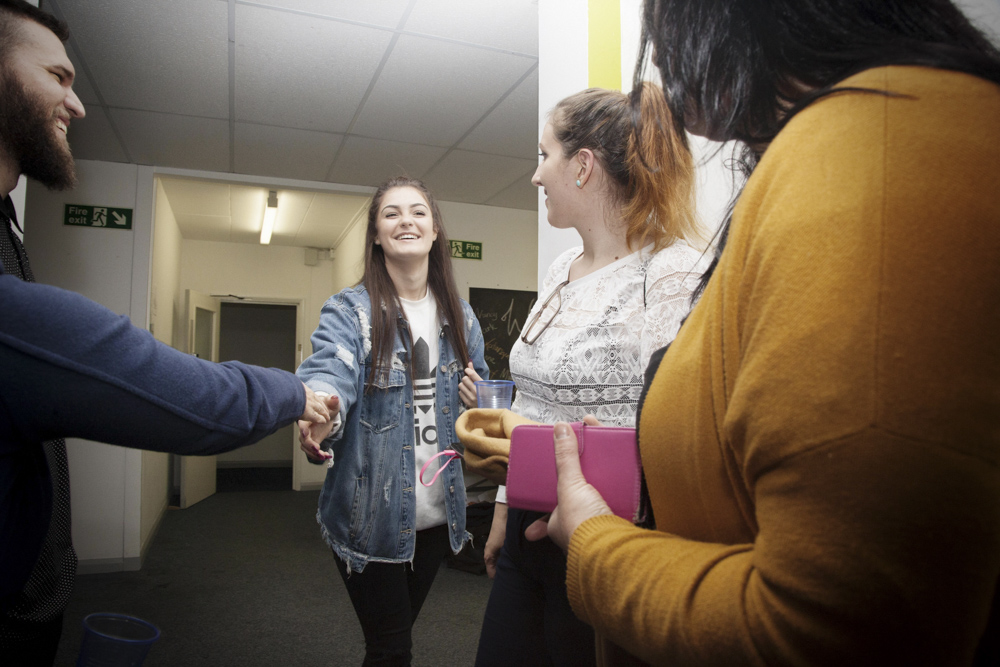 "There's a big conversation going on between our four countries," says Kim by way of introduction. "What leads to genocide? How can we all take responsibility for avoiding it? How do we treat people who are escaping persecution and seeking sanctuary in our own countries? It's about all of that.
"We're trying to do it creatively and so we're going to share a few of those responses with you tonight."
Joanne bounces to the front to tell of her and her daughter's experiences of helping to make the Kitty figure last year. "Iris then invited Kim into her school – Batley Girls – to talk about the project and now the school is going to get involved in Holocaust Memorial Day next year, so that's a result."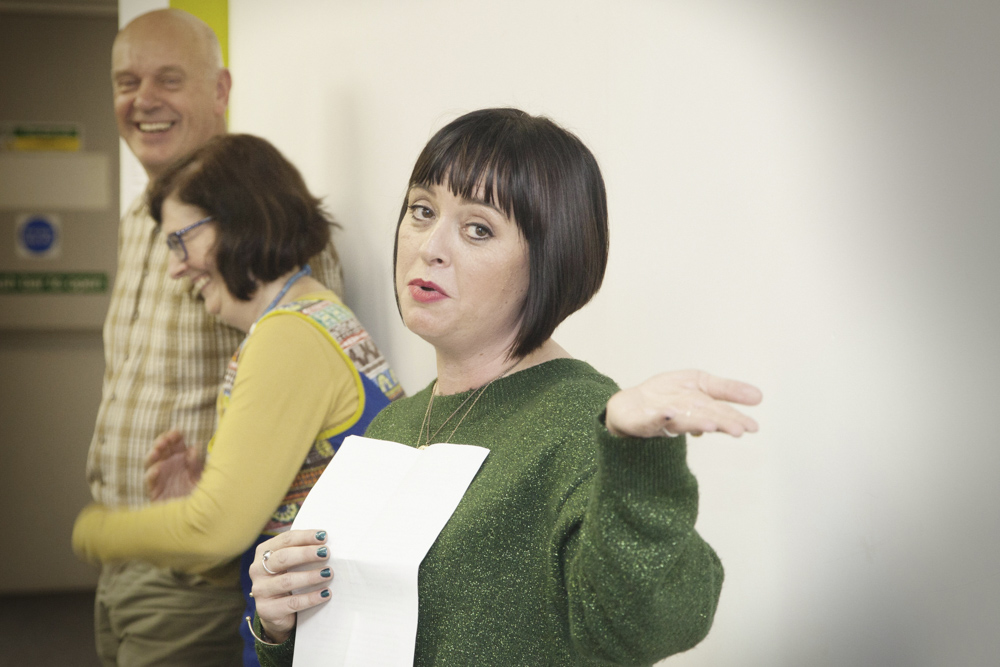 After we've watched a moving video of last year's HMD event the group take turns to introduce each other's contributions.
"This is Naomi's response to a visit to the concentration camps," says Assef, holding up a textile piece which Naomi rotates the right way up.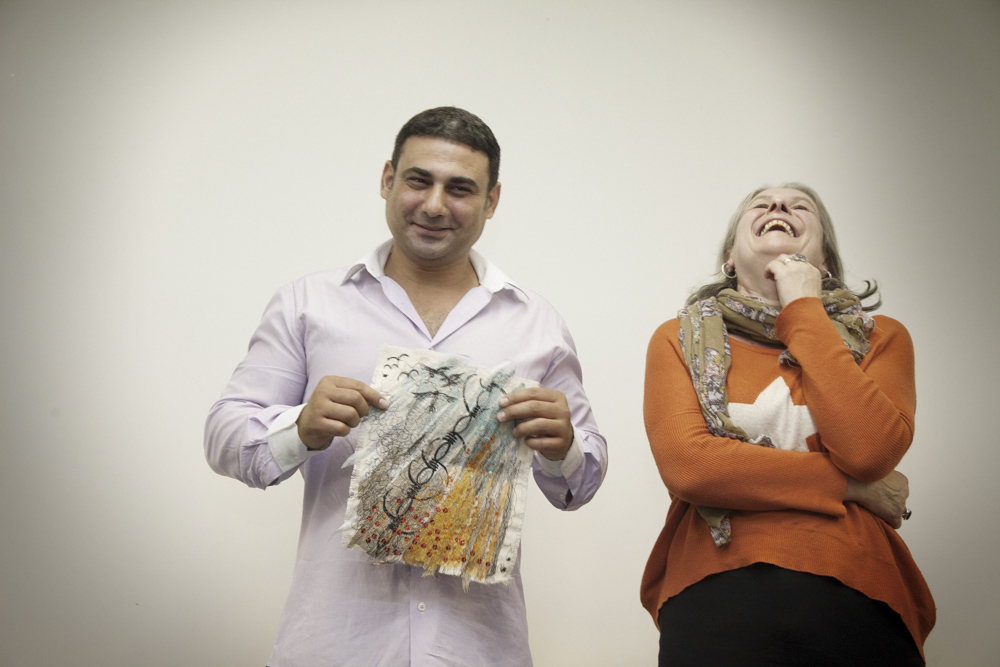 "That visit had a profound effect on me and I found this piece difficult to do," explains the Yorkshire-based textile artist, before introducing Assef.
"He's a Syrian refugee who's lived with his family in Poland for the last four years where he teaches Philosophy. He's an excellent musician and tonight will play a piece he's written, based on the sounds of war in Syria."
We next hear about Kate's button tree and see an extract of a film made in Reggo Emilia, Italy presented by Dzvina; Stefan plays the Roma national anthem on his violin before introducing Raf from the UK group, who's made exquisite, tiny, felted shoes, having seen the shoes in the Polish concentration camp.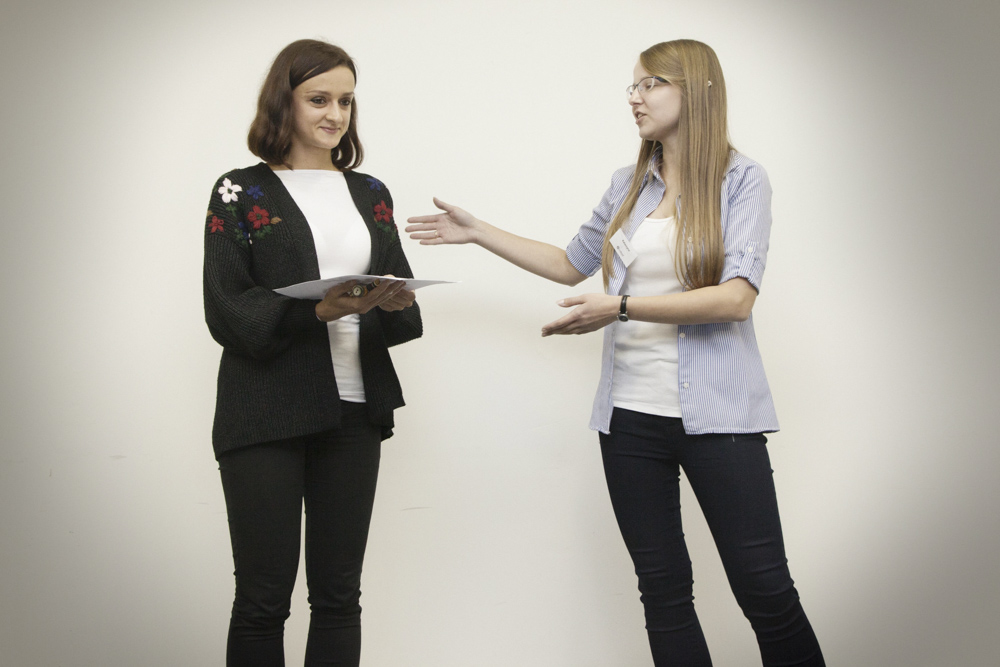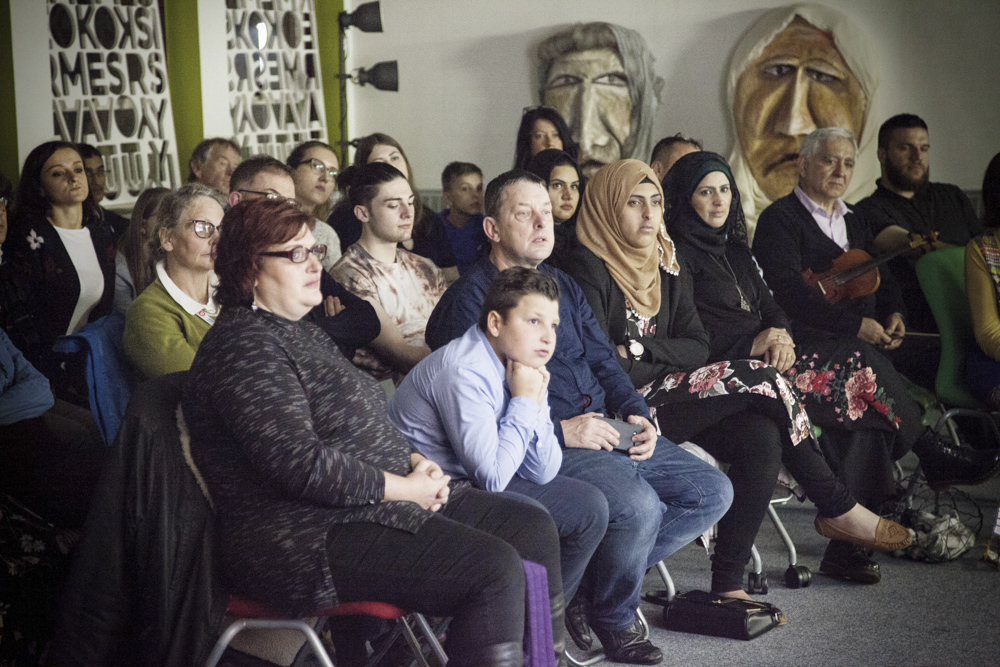 The European visitors will be back in West Yorkshire in January when their artwork will contribute towards the HMD activities. In the meantime another two Weeping Sisters – representing Kurdish and Roma atrocities – will be made. Joanne and Iris are keen to help out and, no doubt, more connections and friendships will follow.
"If any of you are interested in helping make the puppets," says Kim, "please do let us know. We'd love for you to be involved.
"Our final activity has been inspired by the Alfredo Jaar exhibition we saw at the Sculpture Park. He's used 100 trees to represent sanctuary but also isolation in our world."
Next everyone – every nation, every religion – gets stuck in together with the twigs and tape. It's good to see.