"Stand where you think we should site our fire drawings," says Carrie English, our workshop leader, as a couple of dozen artists disperse around the adventure playground.
"Okay, that's good," she says when they've reached a consensus.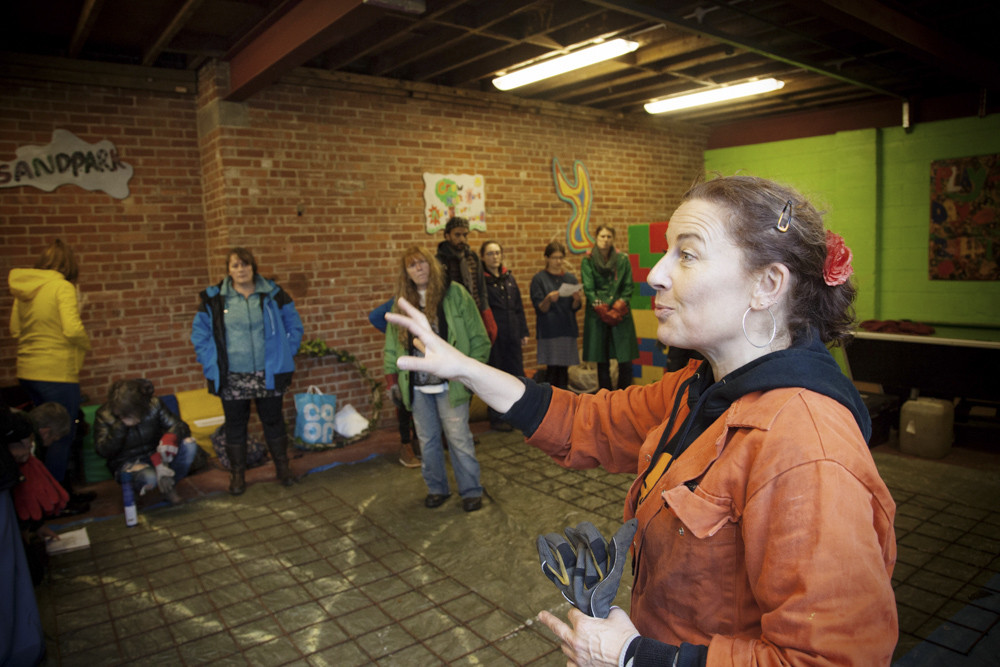 This is the third – and much anticipated – day of Make It Happen, an intensive outdoor arts training school for creative practitioners. Born out of feedback from local artists, the course has been commissioned by Creative Scene and is being run by the acclaimed outdoor arts specialists, Walk the Plank.
Already this week the artists have heard talks on production, budgeting, event management as well as getting stuck in with lantern-making and shadow puppetry. In Dewsbury's Crow Nest Park this afternoon they're going to be making fire drawings which they'll set alight at dusk.
"It's all about teaching new skills and increasing the creative capacity for these artists," explains Danielle Chinn from Walk the Plank, "and collaborations will certainly flow from that."
This seven day course will culminate in The Togethering, an outdoor show in Dewsbury town centre on Wednesday, 25th October. Creative Scene have initiated the event as a way to show what the  community can do to present the town in a positive light, and hope it's the start of a new annual event that will grow much bigger.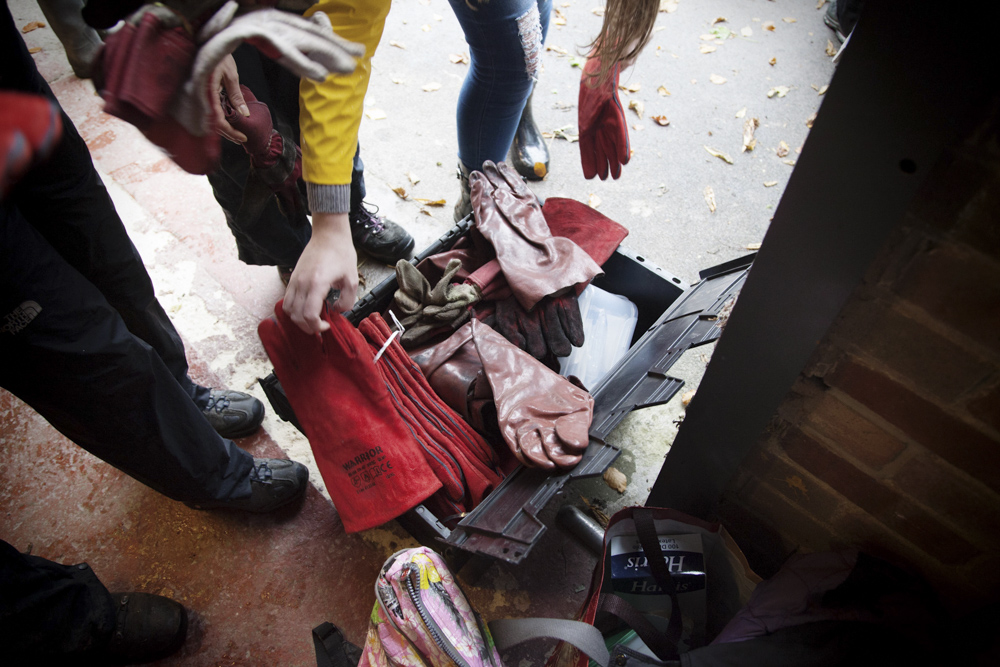 The artists unload scaffolding poles, ropes, boxes and steel frames from the back of the van before laying tarpaulins out in the indoor play area.
There are some familiar faces – stalwarts whose artistic journeys are being shaped by their connection with Creative Scene – and lots of new people too.
Waheeda Kothdiwala is an award-winning landscape designer from Dewsbury who is already sparking with ideas about how to incorporate shadow puppetry and fire sculpture into her work; and video storyteller Imram Azam from Mirfield says he is enjoying working with other artists from different disciplines.
"We all had a go at sketching out a design," says Katie Jones from Bradford who's poring over a line drawing, "and we voted for our favourite."
"Okay," shouts Carrie, "if each team would like to grab a can of paint and start drawing out your design on the grid."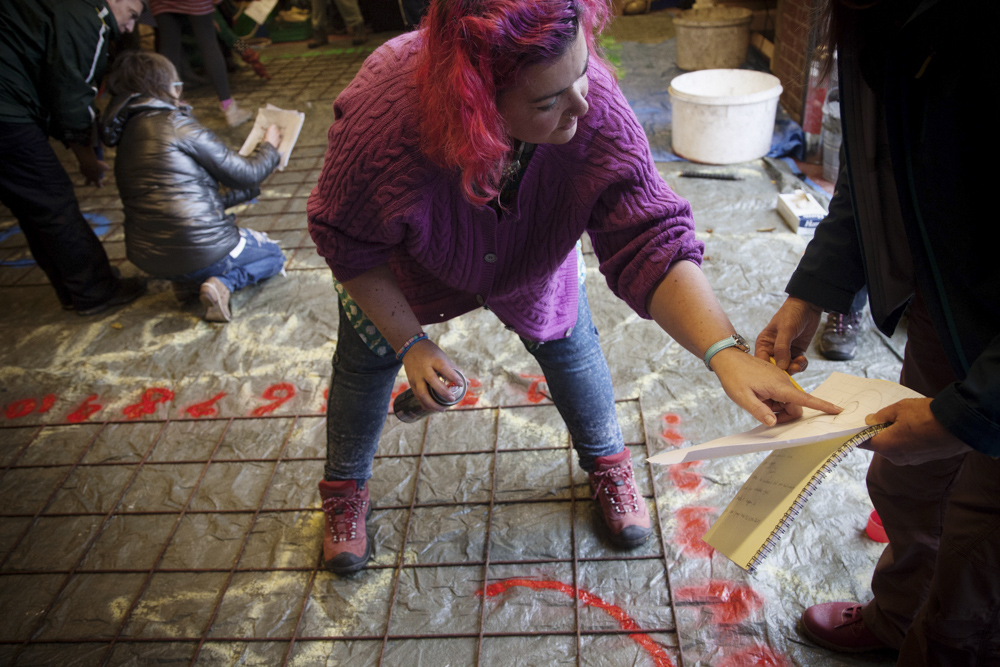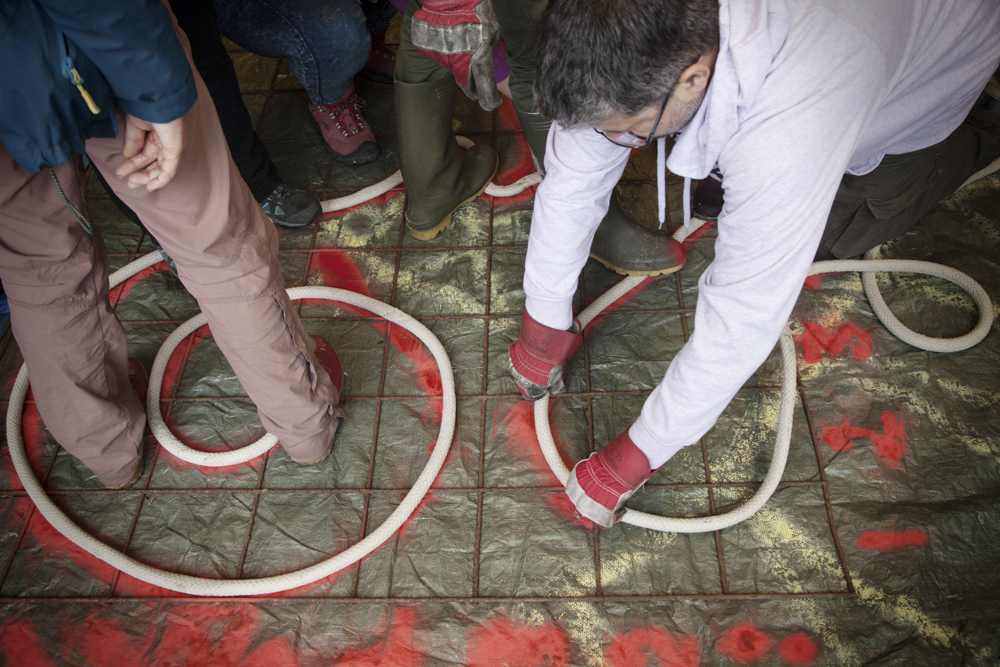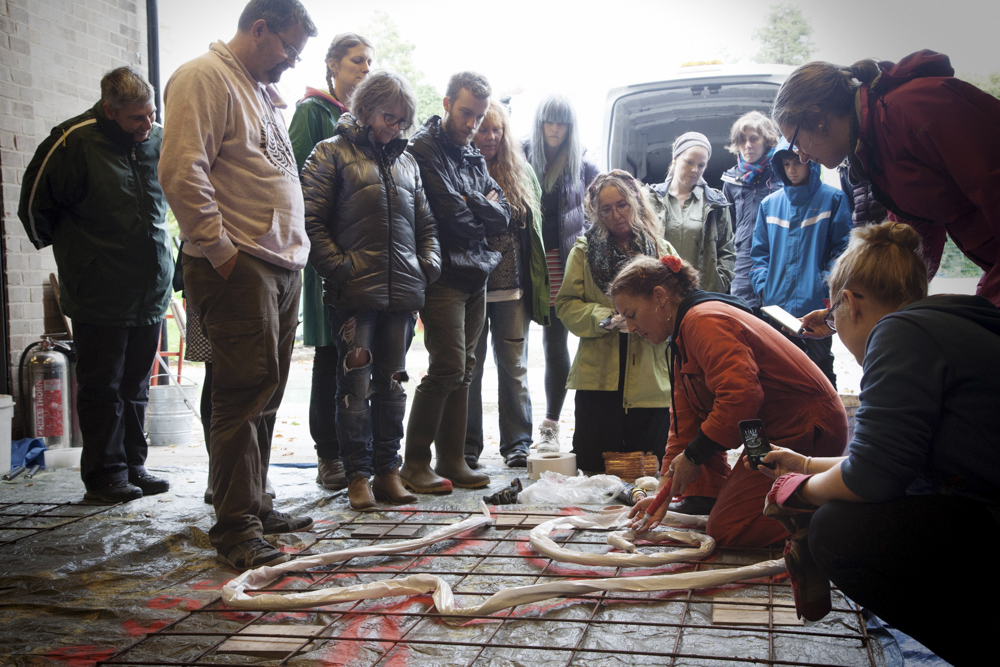 Soon lengths of rope are being cut and soaked in a paraffin mixture ready to be attached to the grid. I drag another participant away for a quick interview.
Dewsbury artist Jax Lovelock tells me her work is about devised performance and getting people to create artwork for themselves. "I'm Dewsbury born and bred," she says, "but moved away for a while. When I came back I was surprised how much the town had nose-dived.
"So I just rolled my sleeves up and got on with it. This," – she looks around – "is about getting up and doing things and that ties in with my work around the town so it's really good."
"And what will this allow you to do?"
"I can use this to help local people take part in activities that will bring all parts of the community together. That's what Dewsbury needs at the minute. We can use creative events to bring the town back up again."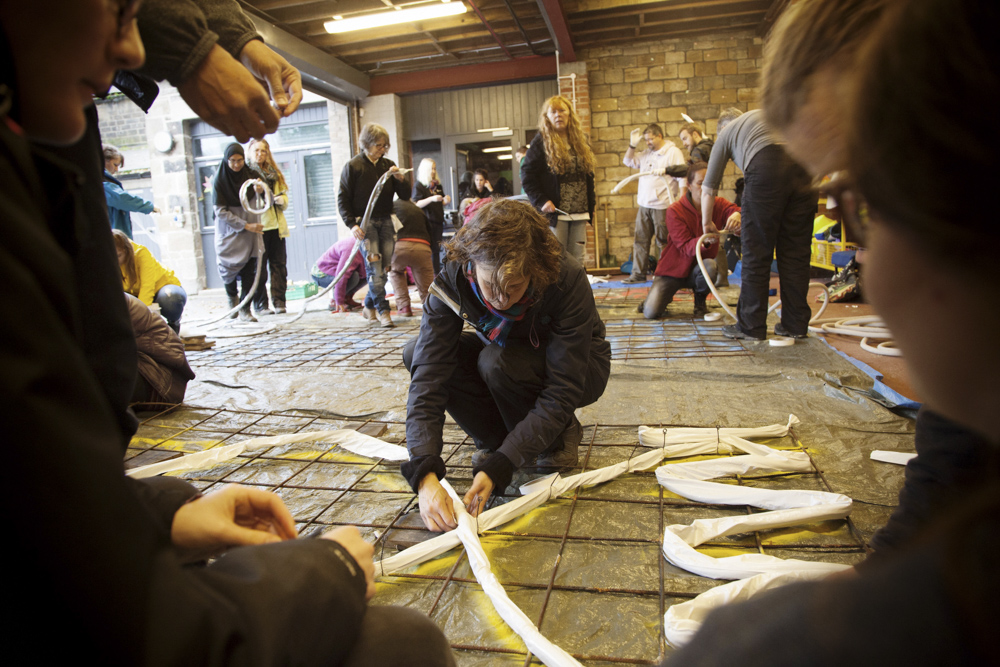 Once now inflammable ropes have been laid out into fire drawings Carrie recruits a 'scaff team'. "Let's decide on the final orientation of the scaffold tower," she says. "Which way is the wind blowing?"
Three of the group point in three different directions. Someone else throws up a sodden leaf which immediately falls directly to the ground.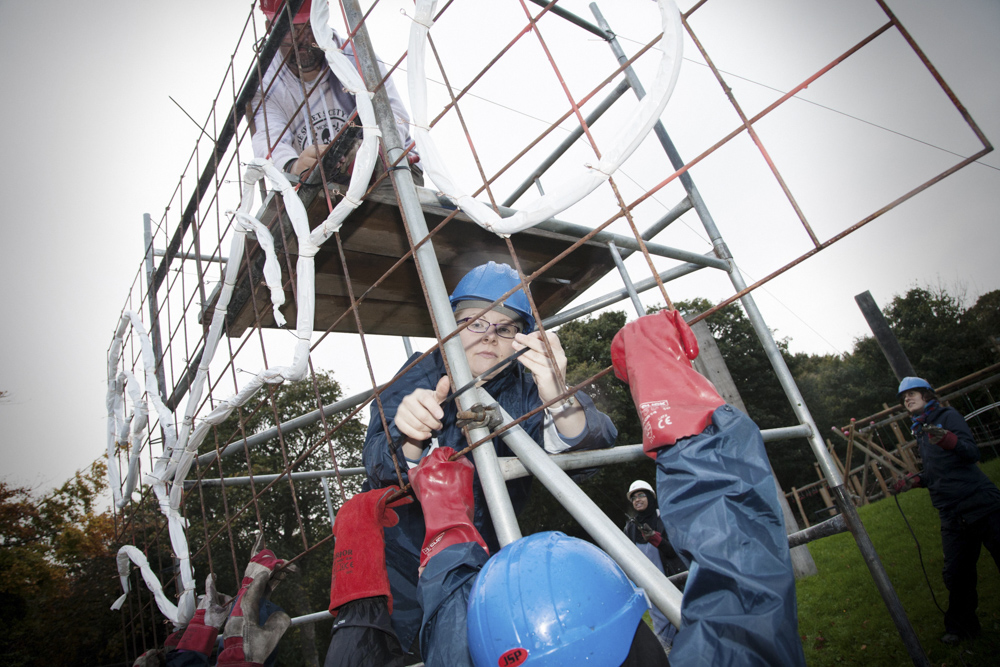 The position is decided and the scaffold tower is swiftly built as the artists carry the first fire drawing out of their temporary workshop.
"Brilliant, well done," says Carrie. "Now we just have to wait until it gets dark."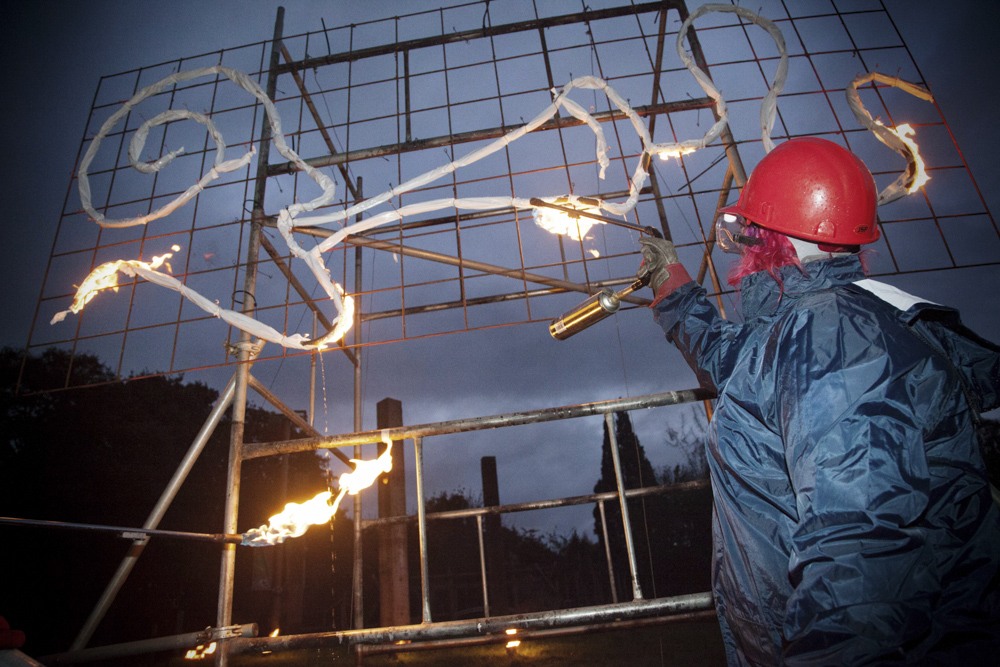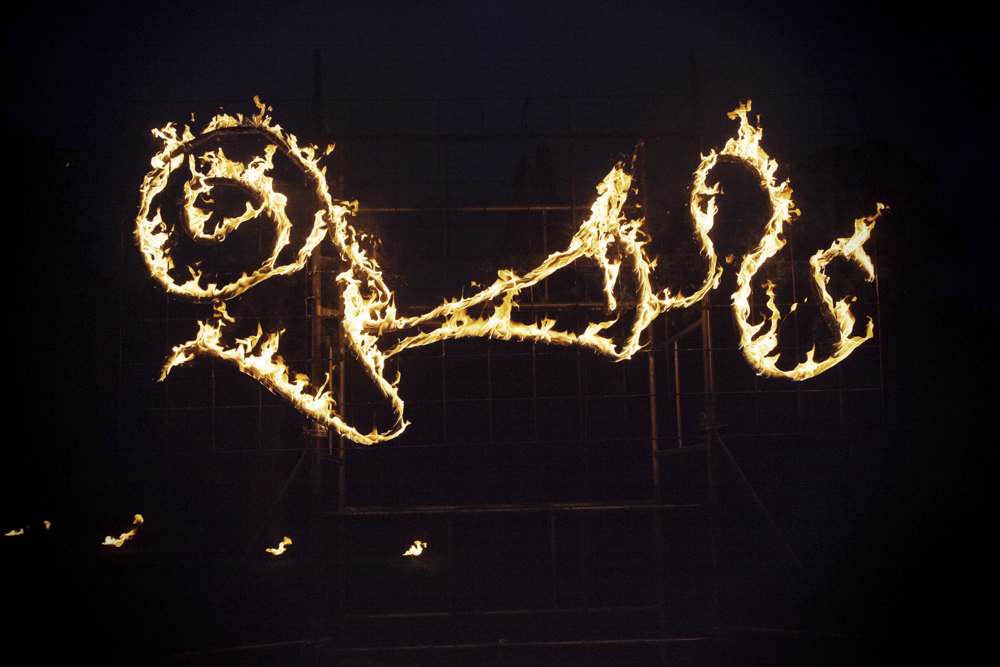 The Togethering happens at Market Place, off Northgate, Dewsbury on Wednesday, 25th October 6.30-7.15. It's free.