"Things are hotting up," says SceneMaker Harriet as she lets me in the front door of the disused office block opposite the bus station. "I'm really excited about tonight."
The top floor is taken over by a pop-up cinema, artists' studios and an exhibition space, and is where Harriet is convening a weekly meeting of Dewsbury artists.
"I want to get people together," she had told me a couple of months ago, "and to show off this town's creativity."
She hasn't wasted any time. Supported by Creative Scene she's set up a North Kirklees version of the worldwide phenomenon that is Free Art Friday. Each week, from Ontario to Sydney, free artworks are left in public spaces for people to stumble upon and take home.
"It's a way of getting art into the community," says sculptor Salma as I unpack my notebook and tape recorder.
"…out of the galleries…" confirms illustrator and writer, John.
"Would anyone like a cuppa?" asks Ruth as artist Nicola arrives with her dog, Pepper.
Each Monday night for the last few weeks Harriet and other socially-minded artists have gathered to agree the week's Free Art Friday theme.
"So what have you done so far?"
In previous weeks' they've made work that counters negative stereotypes of the town. "Last week I made five little thank you cards," says Ruth "with hand painted lettering that said things like 'Thanks for being brilliant!' and 'You're ace!' Whoever found them was invited to give them to other people in Dewsbury."
"Great idea," I say as Pepper snaps at me for no apparent reason.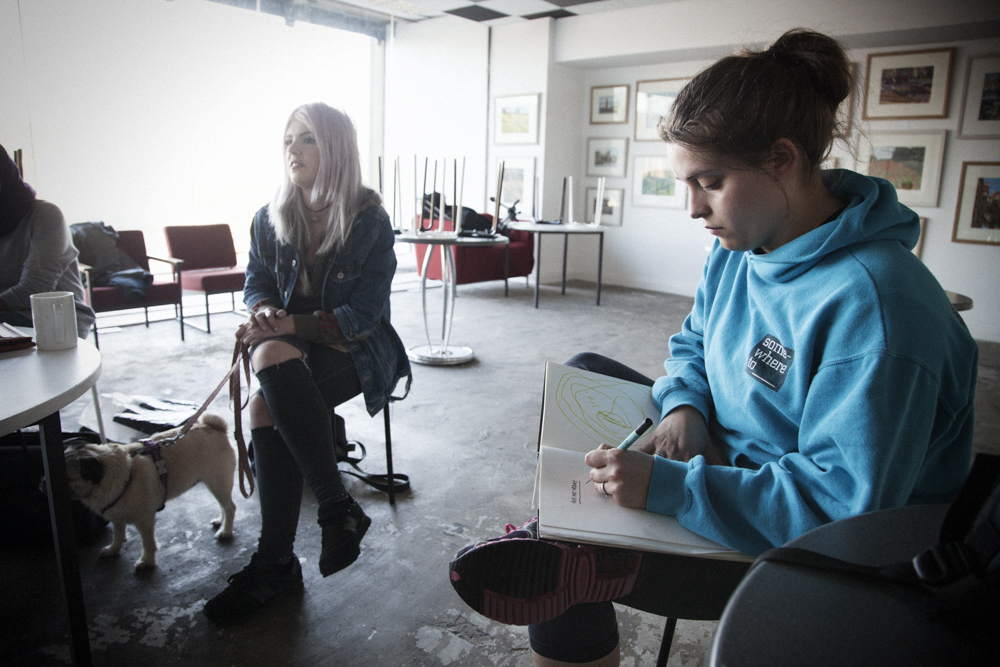 With Ruth and John, Harriet is attending The Northern Faculty, a six-month professional development programme for emerging North West artists passionate about developing a social arts practice. It's a joint effort between Creative Scene and neighbouring Creative People and Places projects.
"Really well," Harriet had told me the other day when I asked how it was going. "I don't want it to end. Before The Faculty I was in a just-out-of-art-school wilderness, trying to figure things out. Now I'm trying new things every day."
"You've found a direction?"
"Absolutely. We get to collaborate and be inspired by others on The Faculty. Only last week I helped a St Helen's artist with a project outside The Saints' rugby ground. We put out a table near the family turnstiles and taught children how to make banners. It was really successful.
"I'd love to do that with Dewsbury Rams or Batley Bulldogs. Sport and art weirdly go well together."
Back on the top floor: "And what's the theme for this week?" I ask, with one eye on the dog.
Harriet's got a big idea but isn't sure everyone will agree.
"Some guy has put up 'Vote Leave' posters on every lamppost up that road past Matalan. Admittedly they're really nice… red on white lettering. But I thought we could put up our own 'Don't' signs above each one. I'd love to do that. What do you think?"
She's relieved when everyone concurs with not only her stance on the upcoming referendum but also her proposed artistic intervention. "We could make them all in different styles," she suggests, "make it playful."
Enthusiastic discussion follows about the style, materials, fixings and briefly, the legality of it all. "We'll need a ladder," someone says.
"I'm really excited about this," says Harriet.