A modern day pilgrim, a 19th-century Baptist chapel and haute cuisine pies: it must be another Creative Scene event.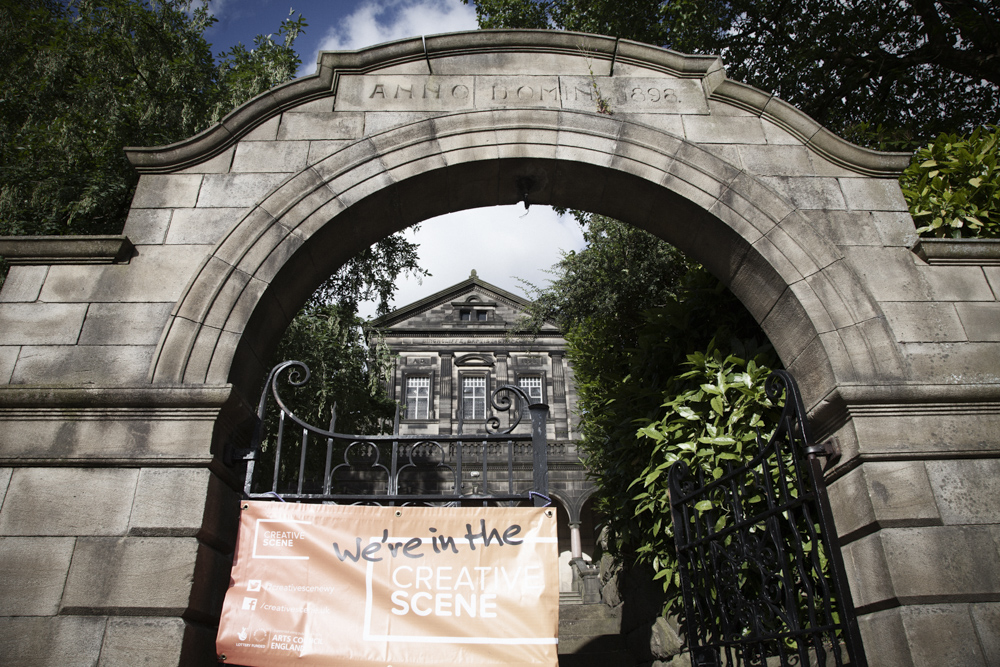 We've ventured a few miles out of North Kirklees to the imposing Birchcliffe Chapel in Hebden Bridge to intercept artist Anthony Schrag on his contemporary pilgrimage from a small Scottish town to the Venice Biennial. That's 2,500 kilometres of pilgrimage.
Anthony arrives to set up his slideshow, still wearing his overtrousers. "How was the weather today?" I ask, recalling the thunderstorms.
"Some of the worst I've experienced so far," he admits. It's only Day 18 of 100.
Anthony is the latest artist to be commissioned by Claudia Zeiske of Deveron Arts in Huntly, 40 miles north of Aberdeen which, for the last 20 years, has hosted 'The Town is the Venue', where art happens on the street, in parks, pubs, cafés, at the railway station or in disused shops.
Tonight, with an audience of SceneMakers – six have made the trip over the border – artists, administrators and curious hangers-on, Claudia and Anthony will talk about their work before we're fed by the legendary Dewsbury Pie Shed.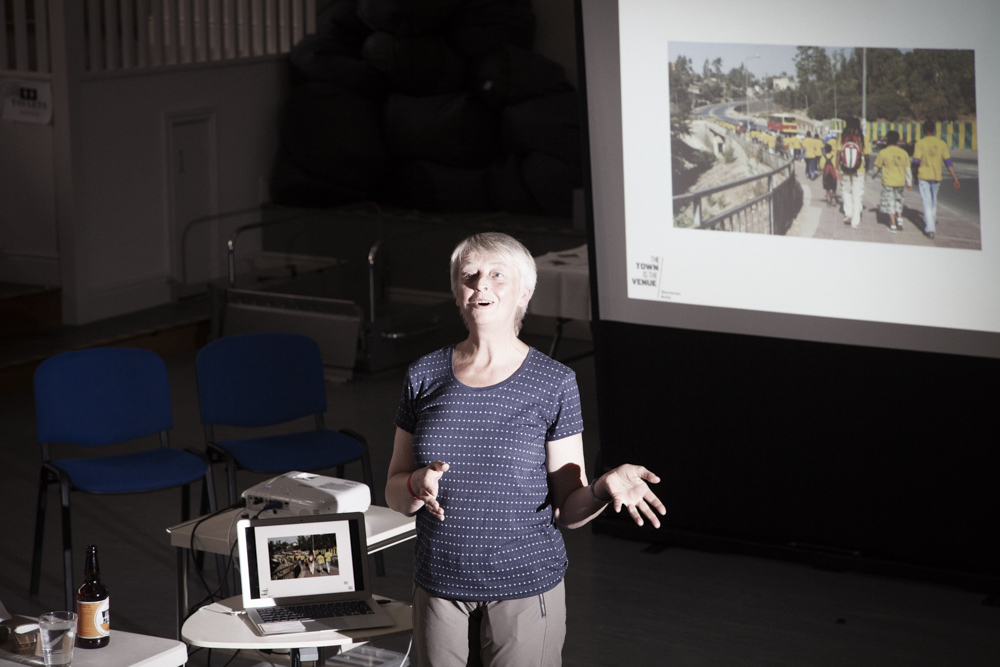 "This is our art gallery from the outside," says Claudia, showing rural Huntly from afar. "And this is the inside," she says, with a picture of the town square.
We hear about one project after another: the adopt-a-dad scheme for families whose fathers work away; about a South African artist who rebranded the town; and another who organised a bike rally which left coloured chalk lines through the town creating an alternative cycle path.
"The projects mostly have identity, environment, heritage or socio-economic issues as their theme," says Claudia as she talks about a drive-in cinema created for boy racers, a rapid response 'police van' that plays music to drunken street fighters and a hi-vis-clad Northern Irish artist who became the town's health and safety confidante.
Amongst the seemingly outlandish projects there's a serious message that engaging art does not need a physical venue – an art gallery or theatre – and that the audience is just as likely to be moved by participatory art happening on their doorsteps than by a painting or sculpture.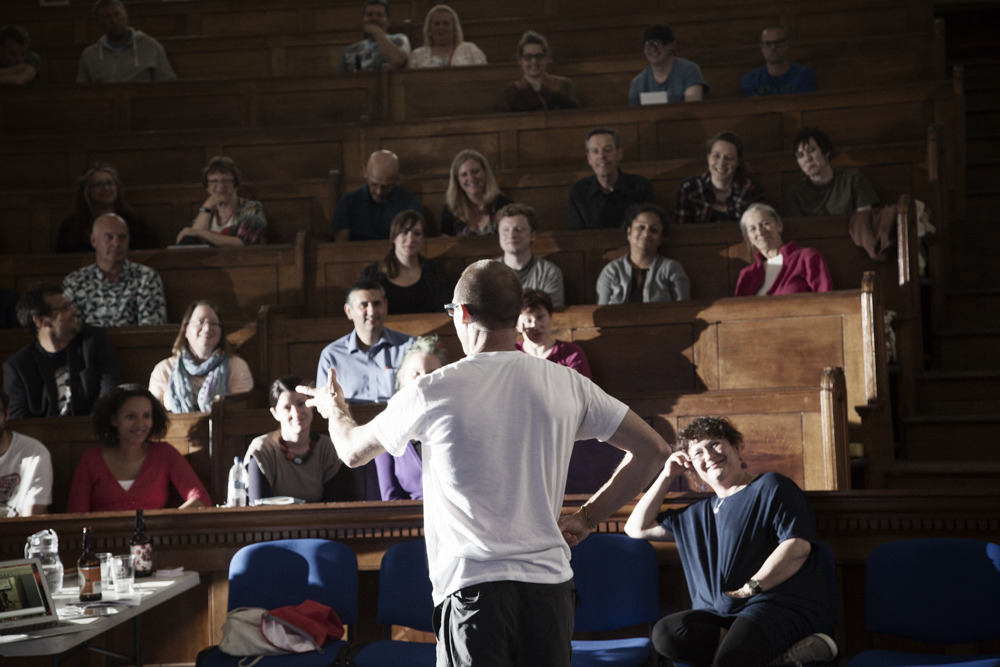 "Please don't judge me," jokes Anthony as he jumps up to give his talk, "I'm not normally the kind of man who would wear socks and sandals, but after wearing hiking boots for such a long time…"
To set the scene, Anthony shows us some of his past projects involving hanging on a wall like some living artwork; becoming a human piñata for Glaswegian children to whack with sticks; or trying to escape his armed bodyguard in South Africa.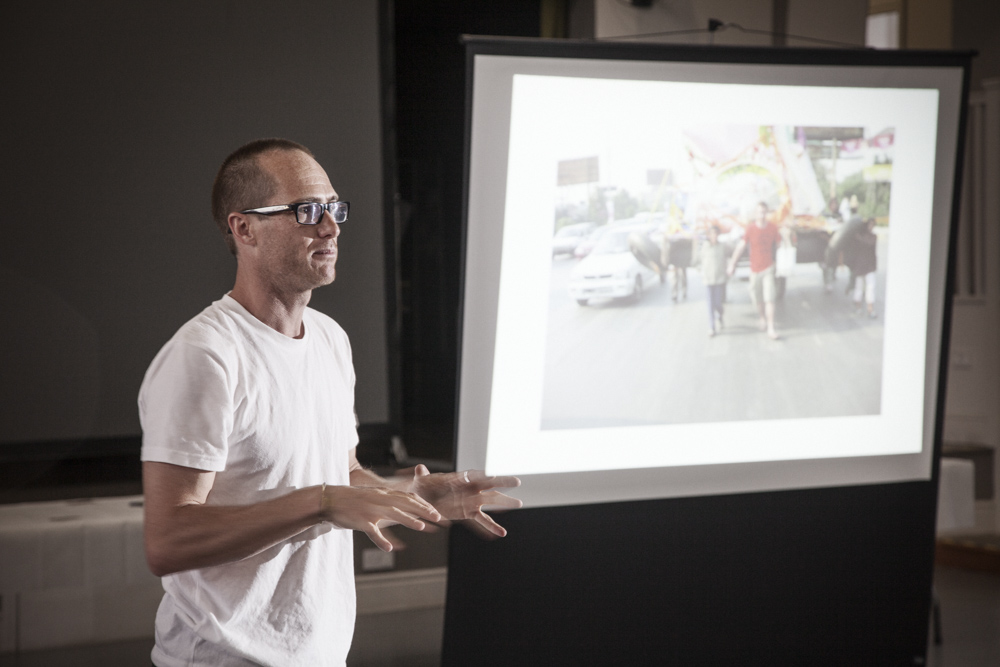 He then tells us something about the genesis of his pilgrimage. "Whether it's climbing up something or blowing stuff up, I've always been interested in the idea of challenge. And Claudia and I have been discussing the Venice Biennial, it's power in the art world and whether there was a place for participatory arts. The two have come together in the pilgrimage."
After the talks, and as pies are being demolished, I ask some of the SceneMakers their opinions:
"I liked the idea of people from different disciplines coming together to make an interesting arts project," says Ashleigh.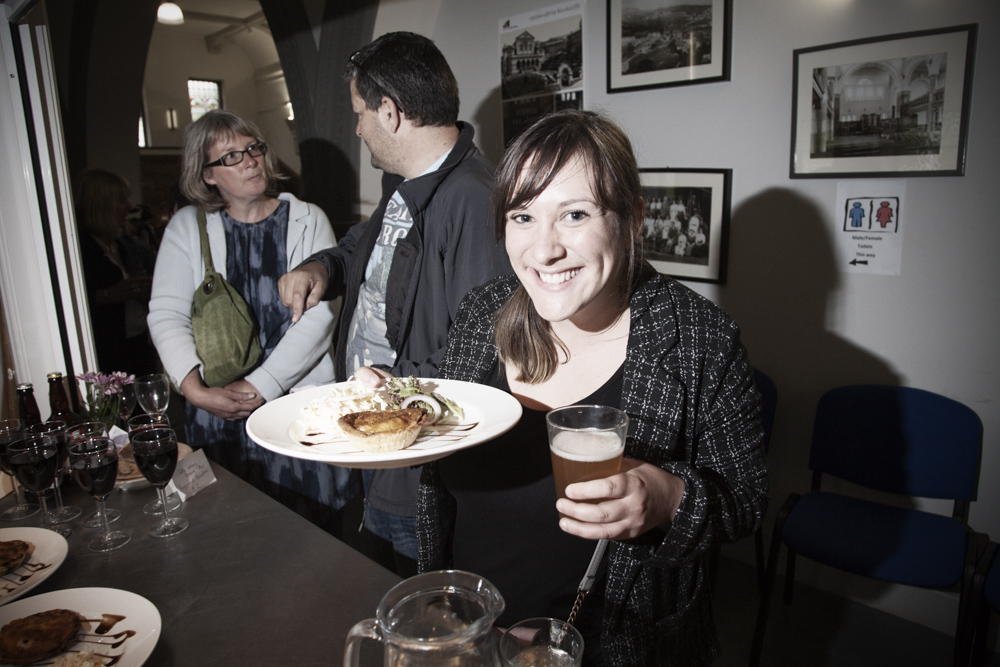 "It was very inspiring and motivating," says Rebecca, "it's definitely given me something to think about."
"Fantastic," says Phil. "Really good to get an insight into how artists have brought work into the community. And inspiring to see weird and wonderful ideas getting off the ground."
"Do you think something like that could happen in North Kirklees?" I ask.
"Yes I do," he says emphatically. "If they can do it, then we can too."
"And what did you think of the pie?"
"Superb," says Phil, dislodging a crumb from his upper lip. "I generally prefer a little more filing but I'll give it 8 out of 10. You have to remember I'm originally from Wigan where we are renowned for our pies so an 8 is pretty generous."
Continued in Turn left at The Alps