Ian and I look sideways at each other. "We've met before?" he suggests.
"The last time I was here it was for the Bicycle Ballet at the Tour de Yorkshire."
"Oh yes," he smiles, remembering when yellow-caped performing cyclists entertained the crowds before the peloton arrived.
This afternoon I'm at Birstall Community Centre for the first performance of A Real Alien Adventure by Ripstop Theatre. It's the latest of Creative Scene's On Tour family shows.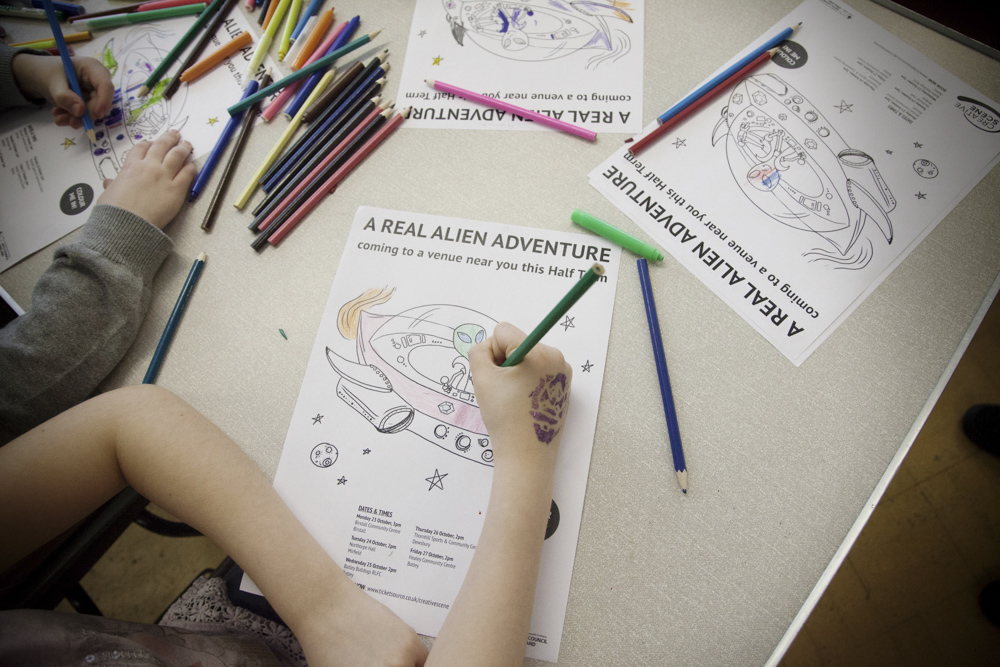 Already there's a small group here from the nursery and holiday club across the road, all heads down, colouring in. While we wait for the rest of the audience community centre chair Ian Blamires tells me there are improvements planned for the space.
"We already host local pilates, yoga and slimming groups," he explains. "But once it's decorated, the kitchens upgraded and a small bar added, we can hire it out as a function room. It's a good space but it could be better."
"We'll start in about 15 minutes," says Creative Scene's Ben as he ticks another parent off his printout. "Sit wherever you like, on the cushions at the front or on any of the chairs."
Samantha has brought her two boys, six-year-old Daniel and 18-month-old Shane, as well as her own mum Rowena as an extra pair of hands.
"I found it on the Kirklees website," she tells me, "when I was looking for activities for the kids. But no, I haven't been to any of these before."
I tell Samantha how Creative Scene have been running this series over the school holidays for a couple of years now and how they tour community venues across the region. "You should get yourself on the mailing list," I suggest as she pulls Shane's coat off.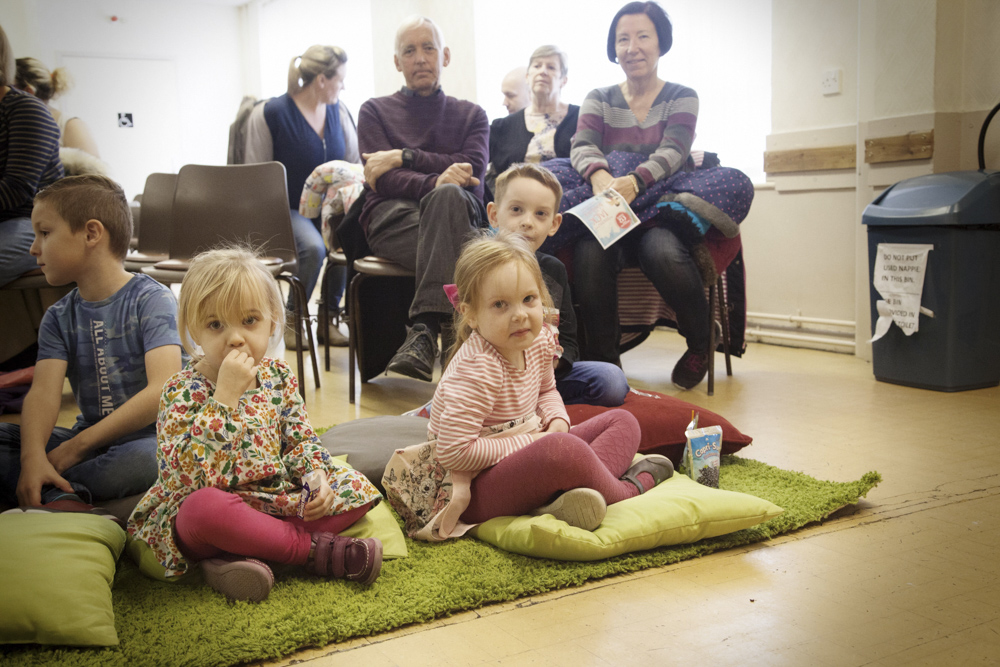 Three expectant children have already positioned themselves on the cushions up front, their grandparents on the seats behind them.
"We've been to two or three of these before," says Grandad Alan.
"Three or four," corrects Grandma Lyn. "We've been here before and to Batley Bulldogs. We've really enjoyed them, and the kids love them too."
"Will you tell me what you think at the end?"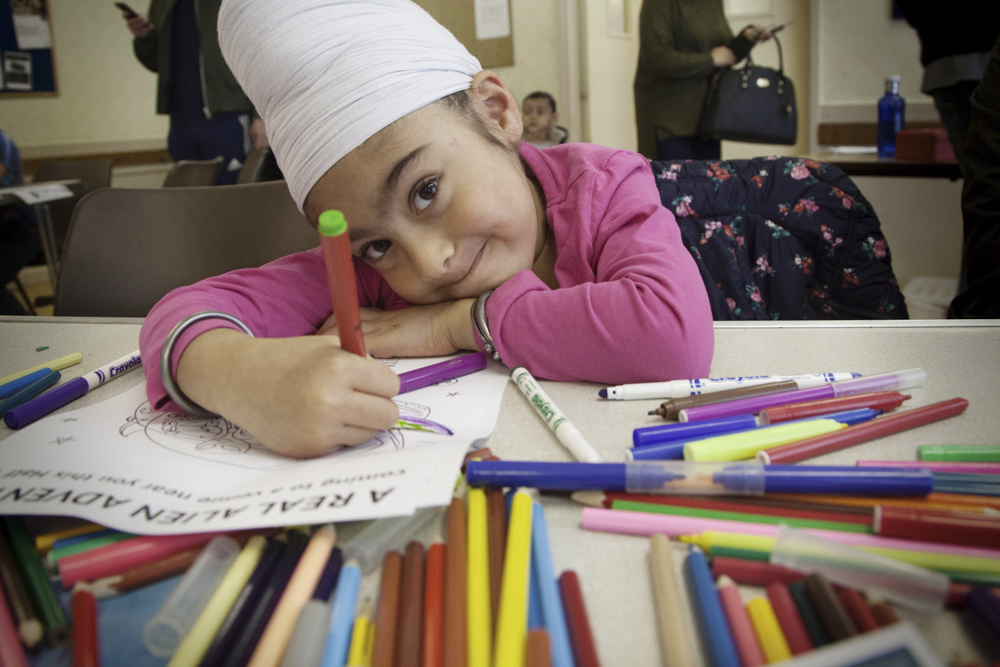 Akaal and Jodh manage some quick colouring-in before the show starts. "They like these kind of events," says their mum Joyty who, with her partner Inderjit, have brought their daughters from Bradford. "They love those aliens in their underpants books, so I'm sure this will be a hit."
Ben switches off the lights and the room comes to a hush as Miss Amelia Buttersnap introduces herself. "I'm an investigator of all things unseen and all things unknown," she says to the delight of the youngsters.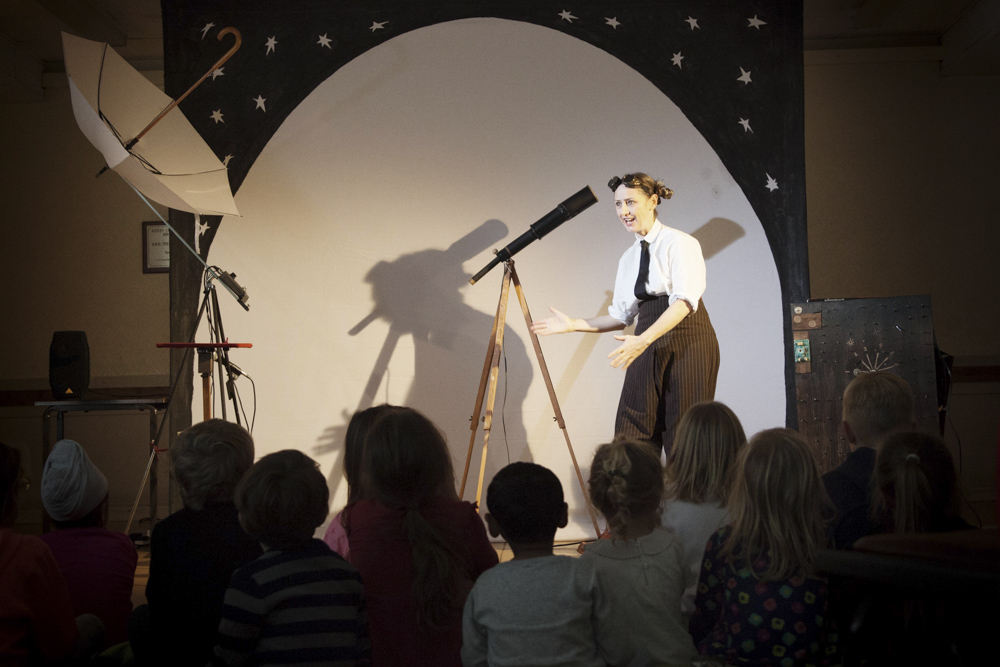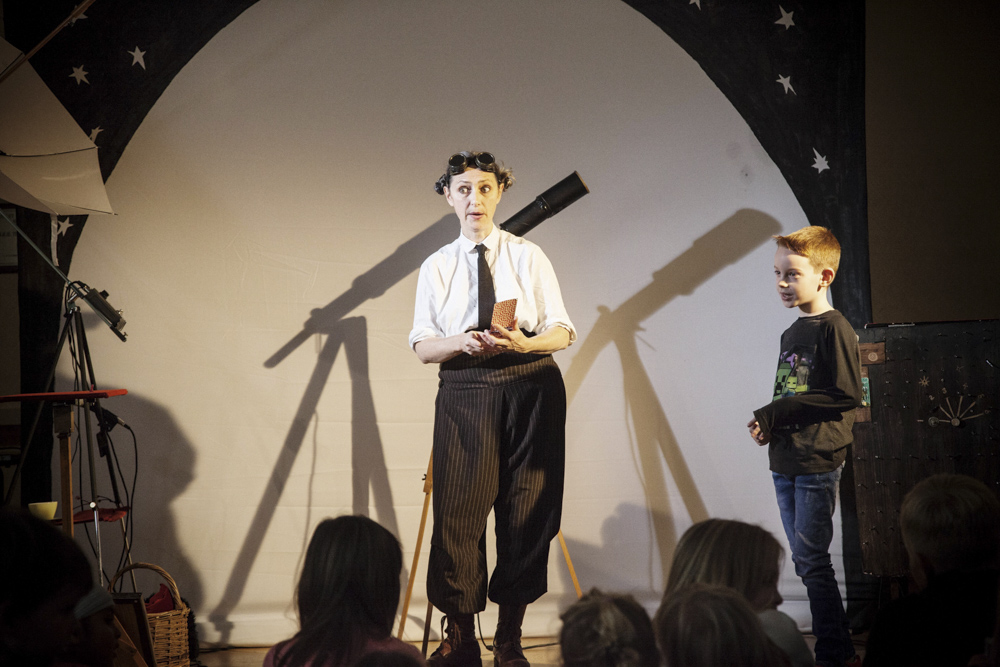 With the help of improbable homemade gadgets and imaginative shadow puppetry Amelia sets out to communicate with aliens who then kidnap her cat, Tibbles. With her Uncle Bertrand's dodgy spare rocket she's eventually reunited with her mog and, along the way, saves all the world's pets from the same fate. Phew.
"It was good," says Joyty once Amelia is safely back on earth. "The voices of the aliens could have been louder but, other than that it was good. It had them engaged for most of it."
"The shadow puppetry in the middle was too prolonged" says Grandma Lyn.
"But it was very clever," says Grandad.
As six-year-old Purdy introduces her toy monkey to Tibbles I discover that her and her mother are On Tour veterans. "We've seen the lighthouse one, The Worried Walrus, the teacup one," says Kerry. "We liked the walrus show best."
The Real Alien Adventure continues this week at:
Batley Bulldogs RLFC on Wed 25 October, 2:00pm (sorry SOLD OUT)
Thornhill Sports and Community Centre on Thu 26 October, 2:00pm
(Please note that there are accessibility restrictions at Thornhill Sports and Community Centre because the lift at the venue is broken. Please email ben@creativescene.org.uk if you have any questions about access)
Healey Community Centre on Fri 27 October, 2:00pm
Tickets available here