Its website says it's the largest in the world and in the flesh Cleckheaton's Aakash Indian Restaurant is truly huge.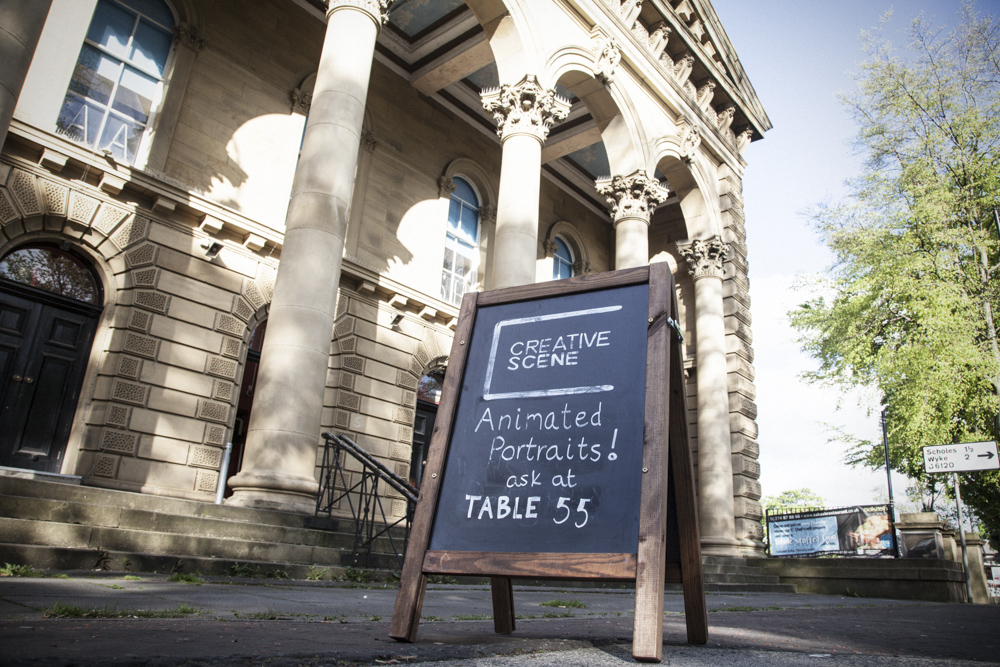 Built in 1850 as a Methodist Chapel its congregation back then were workers from the eleven 'carding' factories that made the Spen Valley world famous.
Tonight the SceneMakers are on a trip to see animator, Rozi Fuller, one of Creative Scene's artists at work. For the next few weeks she'll spend some of her evenings at table 55, making animated portraits of diners and staff and even encouraging them to make their own.
"First I take their photograph and download it to my laptop," Rozi explains. "Then I draw it digitally and animate the drawing." She shows us a recently completed portrait of a bartender.
"I used to teach him!" laughs Gayna, who worked in a local school. "I've just been over to say hello."
Creative Scene producers are here too and so I ask Vicky what they hope to achieve with the Artist at Work scheme. "With local businesses we're exploring how we can make art part of everyday life for customers and employees," she says. "We're looking for new ways  for artists to show their work, get other people involved and have conversations about how they might take part in the future."
"At the moment Creative Scene commission the artists, don't they?" I ask. I know there have already been artists at work at a local market, a café and at Fox's Biscuits. "But in the long run, you'd like businesses to employ their own?"
"It's already happening," says Vicky. "You remember meeting Cassandra at The Mill in Batley? She's now been hired directly by the centre management because they realise her workshops are good for business."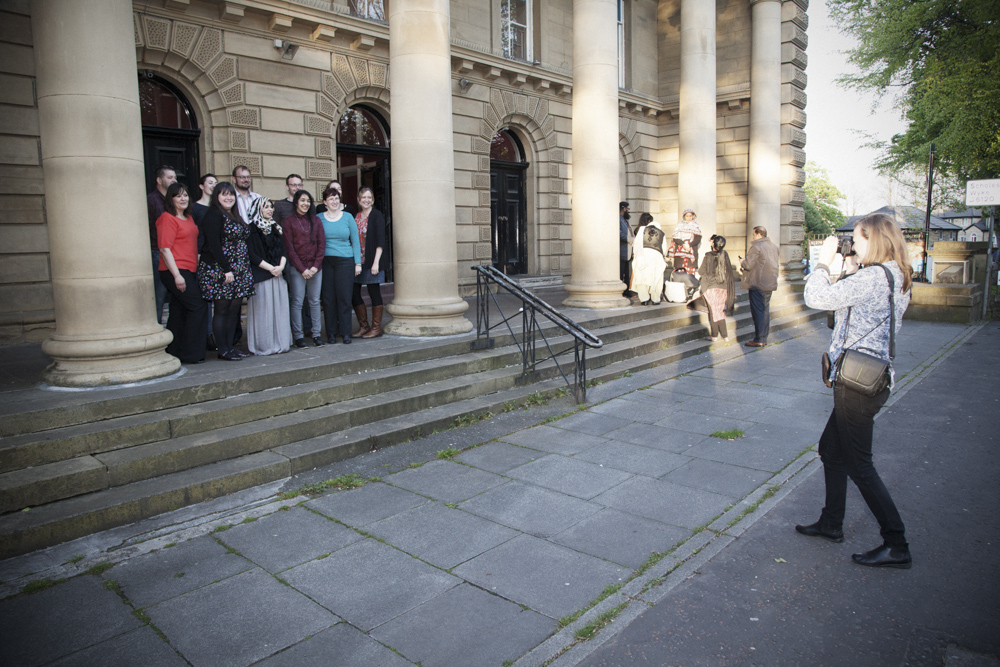 After Rozi has taken us all outside for a group portrait – she's going to animate it later – she asks Duncan about the SceneMakers. She's as curious of them as they are of her.
"We meet every six weeks or so," he explains, "often for a brainstorming session with Creative Scene staff. In essence, it's about helping to deliver things which make art more accessible, like your work here."
"People like to see you doing something," Rozi says. "The process engages them, and there's an opportunity for discussion and making suggestions."
Duncan agrees: "If something is static, there's no story to be told, no journey. That's why people like theatre. They can follow it and be swept along by it."
Rozi settles back at her table to demonstrate the animation process to SceneMakers Zainab and Ammaarah. While she's uploading photos I catch up with general manager, Fawaad and asks what the restaurant gets out of the residency.
"It makes the customers' experience more memorable, doesn't it?" he says. "We do a lot with the local community and we were keen to get involved in this. It's a really good idea."
"And what about your staff? What do they make of it?"
"They love it," he says, "Rozi is interacting with the kitchen staff and waiters, and they are enjoying having her here."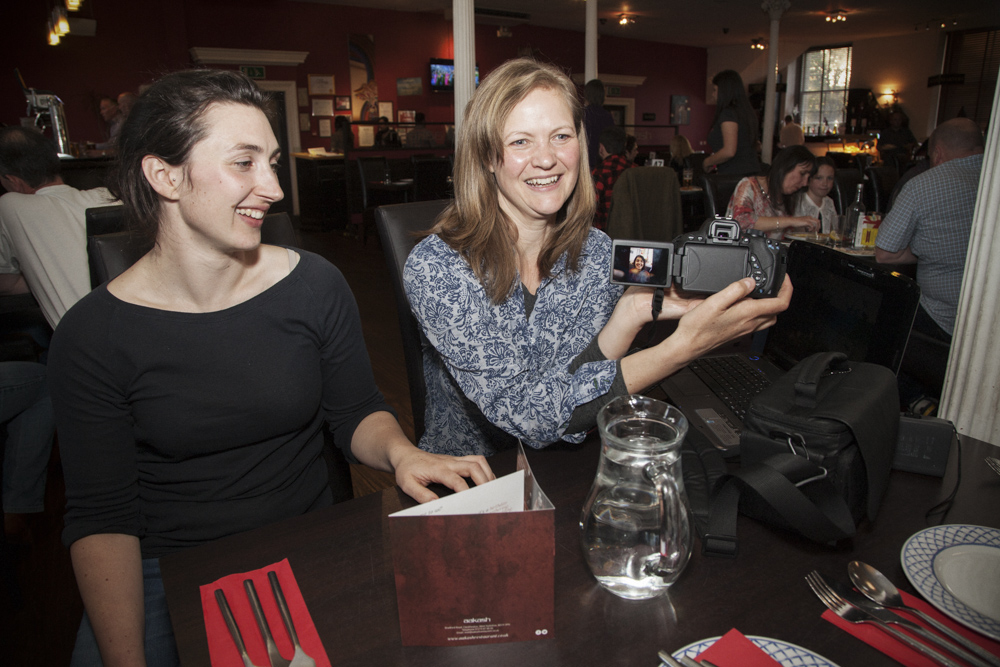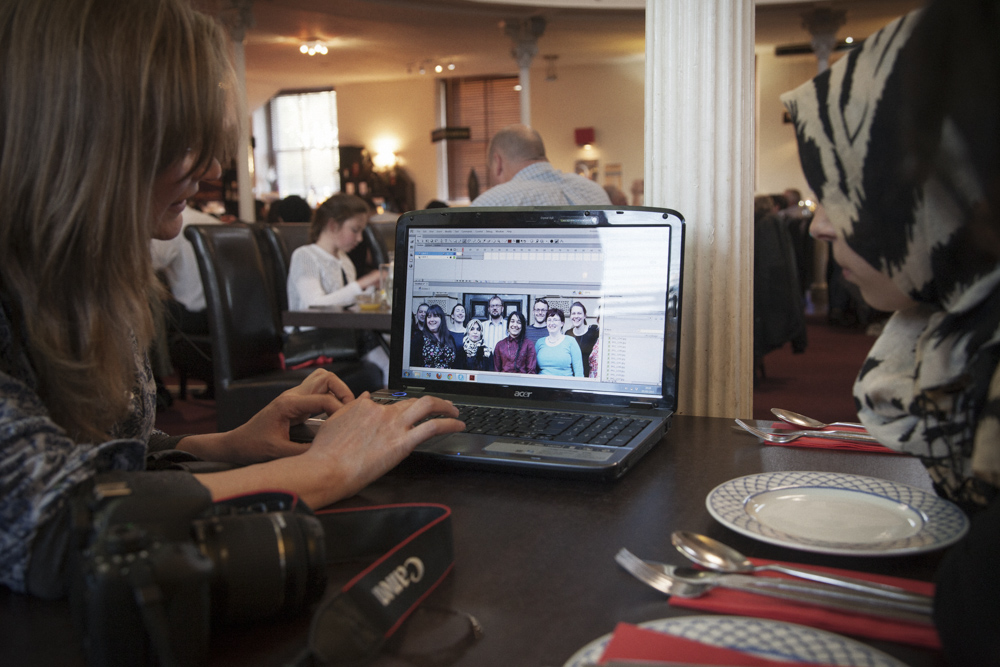 Back at her 'studio' – table 55 – and now with Vicky looking on, Rozi draws around the shape of a face, adding the eyes, mouth and nose. "It looks weird at first but then I will colour and shade it."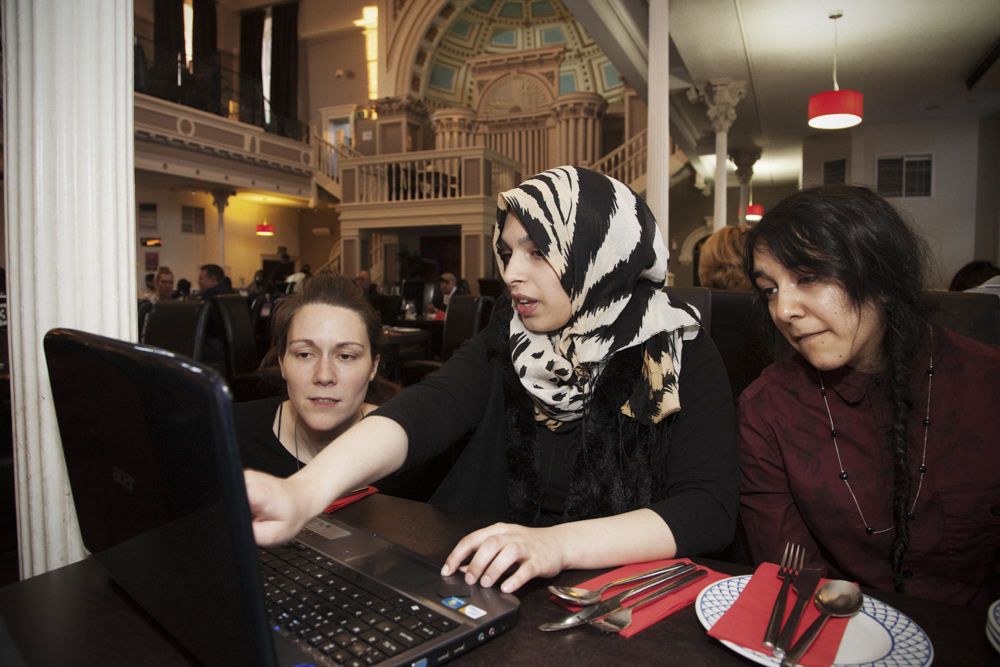 "What do you do with the portraits afterwards?" I ask.
"With the subjects' permission they'll appear on the Aakash website and on a digital photo frame we'll put in reception."
"Wouldn't it be great if you could project them onto the side of the building," I suggest, "Imagine pulling up in the car park to see these massive moving portraits."
"That's exactly our ambition for the end of this project," says Vicky.